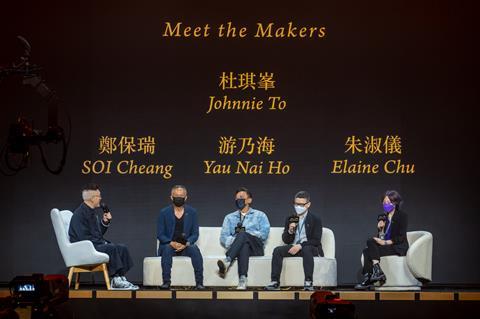 MakerVille, a new entertainment subsidiary of Hong Kong's PCCW, has revealed that its first film production will be murder mystery Seer, produced by Johnnie To and directed by Soi Cheang.
At the official launch of MakerVille in Hong Kong yesterday (April 27), To and Cheang took to the stage to discuss the new project, which has wrapped production, alongside producer and co-screenwriter Yau Nai-hoi and producer Elaine Chu.
Seer's cast is led by Lam Ka Tung, who has received two best actor nominations for the upcoming Hong Kong Film Awards for Hand Rolled Cigarettes and Limbo (also directed by Cheang), and Lokman Yeung, the team leader of popular boy band Mirror. Co-stars include Ng Ting Yip, Ng Wing Sze and Chan Charm Man.
The first teaser trailer was also unveiled, which revolves around a fortune teller and a murderer.
Laying out his vision for the firm at the launch, MakerVille CEO Lofai Lo said: "MakerVille is a place for 'makers', with a focus on content creation, artiste management and events. MakerVille will continue to provide quality content for ViuTV to entertain the public, while exploring production and distribution opportunities in Asia and beyond to present exciting programmes to more viewers.
"We aim to bring together talent and partners, in production and performance, from Hong Kong and around the world."
Lo is former general manager of ViuTV, a pan-regional OTT video service operated by PCCW Media Group in 16 markets including Southeast Asia, the Middle East and South Africa. ViuTV has produced a number of original drama series in the past six years, including In Geek We Trust, the Margaret & David series, and the Hong Kong adaptation of Japanese series Ossan's Love.
In line with the creative output of ViuTV, MakerVille announced a string of new Hong Kong drama series including Dead End, Into The Wild, Coffee For The Soul and Disastrous Honesty in production; Beyond The Common Ground, Left On Read, Sparks, Million Dollar Family, Zero Sum Game and animated series Excreman in development; and previously announced We Got Game, I SWIM and Inevitable.
A selection of these are produced and directed by Yuen Kim-wai, Fung Chih-chiang, Hang Jai, Steve Law and Yellow Wong who also attended the launch.
Artistes managed by MakerVille include boy bands Mirror, Error and P1X3L as well as girl band Collar.