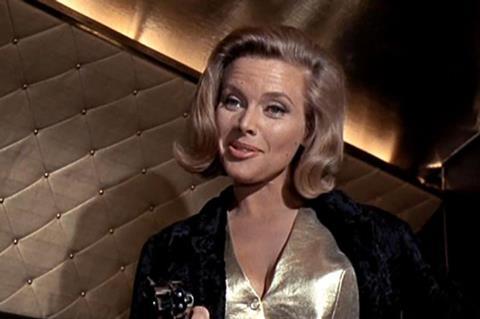 Honor Blackman, the classy British actor who rose to fame on TV show The Avengers before playing the alluring Pussy Galore in James Bond film Goldfinger, has died. She was 94.
It is understood Blackman's death was unrelated to Covid-19. According to reports she died surrounded by family at her home in Lewes, Sussex.
The London-born actor attended Guildhall School of Music and Drama and via roles in the West End she eventually got her big break as leather-clad crime-fighter Dr. Cathy Gale alongside Patrick Macnee as John Steed in TV series The Avengers in 1962.
Blackman left the show as it was about to transition to colour to play Pussy Galore opposite Sean Connery in Goldfinger, the third 007 instalment that came out in 1964.
The role earned her wide admiration and a whole new raft of fans for Blackman's customary blend of wit, sensuality, and physical prowess.
Her subsequent film roles included drama Jason And The Argonauts (1963), Life At The Top (1965), Lola (1970), The Last Grenade (1970), Bridget Jones's Diary (2001), and Cockneys vs. Zombies (2012).
Blackman guest-starred in TV shows such as Doctor Who and Minder, and starred in the West End production of Wait Until Dark in 1966. In the 1990s came a regular role on TV show The Upper Hand.
Outside of drama, Blackman was renowned as a political activist.
She was married twice and is survived by her adopted children Lotte and Barnaby.