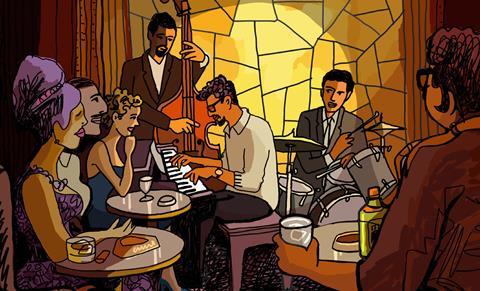 They Shot The Piano Player, the new animation from Spanish director Fernando Trueba and artist Javier Mariscal, who previously collaborated on the Oscar-nominated Chico & Rita, is one of the projects being showcased at Cartoon Movie 2020, the annual European feature animation co-production forum.
It will take place in Bordeaux, France, from March 3-5.
Cartoon Movie will showcase 66 animated feature films in the works to some 900 potential buyers and partners. They are comprised of six in production, 27 in development and 28 in concept. There will also be sneak previews of five completed films.
They Shot The Piano Player follows a New York music journalist, voiced by Jeff Goldblum, who attempts to uncover the truth behind the disappearance of young Brazilian piano virtuoso. London-based Film Constellation has come on board to finance the project, produced by Cristina Huete of Spain's Trueba PC (Chico & Rita) and Valerie Schermann of France's Prima Linea Studios (The Red Turtle).
Other titles in production or receiving a sneak preview include Calamity, A Childhood Of Martha Jane Cannary, Rémi Chayé's second film after his acclaimed debut Long Way North. Based on the US historical figure of Calamity Jane, the film is a co-production Denmark's Nørlum and France's Maybe Movies. International sales are handled by Paris-based Indie Sales, which previously represented Oscar-nominated My Life As A Courgette.
Another project is The Island, an animated musical directed by Romanian director Anca Damian (Marona's Fantastic Tale) and inspired by the tale of castaway Robinson Crusoe. Aimed at young adults, it is produced by Romania's Ap Arte Film and Belgium's Take Five.
According to the organisers, the average budget per film is €6.9m ($7.6m). Some 55% of the selected projects are aimed at families, while 20% are targeted at young adults or adults.
France has the most projects at this year's Cartoon Movie with 23, followed by Spain with nine, up from four last year.
The annual forum is organised by the European Association of Animation Film, along with animated TV series co-production market Cartoon Forum, training programme Cartoon Master and international co-production event Cartoon Connection.
It is supported by the EU's Creative Europe Media Program, France's National Film Board (CNC) and local institutions.