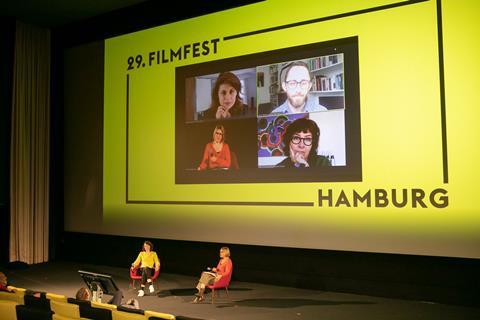 With the German industry looking to overhaul its approach to talent development and set up a new national talent scheme, FilmFest Hamburg held a summit on the subject.
Guests from "neighbouring countries that have gone before us", as moderator Catherine Berger, managing director of the film school DFFB Berlin, described them, were invited to share insights on the 'do's" and 'don'ts' of talent development.
There were some radically different responses.
Provide the new filmmakers with "a playground" and allow them to "make mistakes and learn by doing" was the advice from Iwana Chronis, head of selective funding at the Netherlands Film Fund. "Film is, of course, such an expensive discipline and art that it's sometimes very hard to find the space to make mistakes."
Veteran Danish talent guru Mette Damgaard-Sorensen, artistic director of New Danish Screen, said she and her colleagues have a novel solution for finding out what new talent wants from funders. They actually ask them.
"And what they really want usually is trust," sha said. "We also embrace the idea of mistakes but I think we try to avoid them. We are working with features. An interesting mistake is not necessarily the best calling card for a future career."
From the UK, "show me the money" was the approach endorsed by James Weddup, the interim head of BFI Network. Filmmakers, he said, need resources. They depend on that "financial support to make their first films being funded at a professional level".
"Fostering peer networks among new filmmakers is a really important aspect," he said. "People are keen to find their collaborators and have a structure in which to meet new people." That's why the BFI tries hard to make links between new writers and directors trying to find producers.
Weddup also emphasised the importance of "demystifying" the film business, showing rising talents the different entry routes into industry.
Like Weddup, Ann Kathrin Lewerenz of MOIN Film Fund Hamburg Schleswig-Holstein, strives to reassure new filmmakers that funders are "not as scary as we might seem".
Damgaard-Sorensen spoke of the importance of "early answers." Don't keep the talent holding on. Let them know as soon as possible whether the fund is aboard or not. Two decades ago, when New Danish Screen was launched, graduates from film school would often take a small eternity to make their first features, she recalled. "Eight, nine, ten years - and a lot of them got lost on the way and veer entered the film industry."
Now, the pace is much accelerated and New Danish Screen looks to work with teams of filmmakers rather than with individual writers and directors to foster collaboration and practical thinking.
"We try to have a dynamic process and say to filmmakers that this needs to be your main focus, you can't have a lot of projects on the side," she said.
The average production budget of a film supported by New Danish Screen supports is €800,000 of which the fund will supply €675,000.
Creative with the commercial
A perennial challenge is how to create a space for new talent to flourish at the same time as satisfying the demand from commercially-driven broadcasters. When new Danish Screen was founded, the broadcasters were part of it. They withdrew from scheme three years ago. "I think it's extremely important when you work with broadcasters that they do not have an editorial stake," Damgaard-Sorensen stated.
She noted a tension at the heart of schemes which have broadcaster support. There are competing agendas: on the one hand, the schemes are are all about developing talent but, on the other, the broadcasters will often see them as way of accessing new and inexpensive content.
"The fewer voices in that developing room, the better," Damgaard-Sorensen continued.
There are also rights benefits. "When the broadcasters were part of the scheme, they also had the right tot show the films for a seven-year period on all their platforms. What we are seeing now is that they actually have to buy themselves in."
The Netherlands Film Fund grew its talent development programme together with the public broadcasters. Now, following revisions to the Dutch public broadcasters' fund, their support is stopping. Chronis was looking on the bright side, suggesting there is the possibility for the Fund "to rethink what we want to do in terms of talent development. It creates new challenges, obviously the visibility challenge but also creates new opportunities and perhaps new collaborations with other partners."
Meanwhile, Weddup told delegates in Hamburg all about the BFI's "film hub" scheme and how it is intended to move the focus on talent development away from London and the south east of England (although there is also a London hub). The hubs are based in cinemas in major cities across the UK. Talent executives are on hand to scout talent and to meet with aspiring filmmakers. These execs also work extensively locally with theatre groups and will look to bring talented writers from other fields such as radio, into film.
"They are placing film within an arts ecosystem in the place," he explained. "The executives also work together to run programmes where talent from, say, the north of England and the South West can mix, come together and create collaborations. The idea is to create these webs of contact in each place which means there is industry development happening outside of London."
Weddup also highlighted the BFI's emphasis on tackling under-representation in UK talent development when it comes to gender, ethnicity, sexuality and disability.
He had the statistics at his fingertips about how the National Lottery-funded BFI Network is meeting its targets. "Nine percent of the funding we give out in a given year goes to filmmakers who are deaf or disabled, 26% of it to filmmakers who are not white in terms of their ethnicity, 56% to female and non-binary filmmakers and 17% to LGBTQ+ filmmakers," said Weddup. "Using this framework seems to have given us a very robust way to look at the interventions the projects are making and to ensure we are addressing imbalances in the industry with our funding."