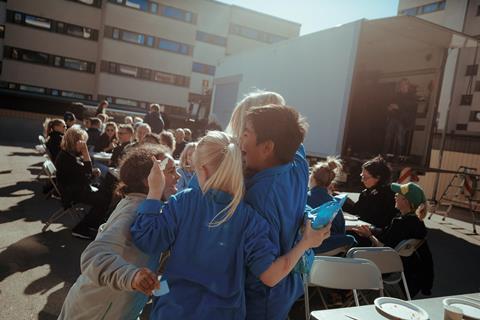 A small group of kids are happily making scrapbooks and playing cards on a sunny balcony in August 2019, on a housing estate in Oslo – but this is not a typical summer holiday. This is the set of Eskil Vogt's Norwegian drama The Innocents, which will world premiere in Un Certain Regard at the Cannes Film Festival.
The children play between takes but also take their on-screen jobs seriously. After all, they are very much the focus of the film. While not aimed at a young audience, The Innocents explores what children get up to when adults aren't watching.
The story follows nine-year-old Ida and her autistic sister Anna, aged 11, who move to a new housing estate with their parents in the desolate days of summer holidays. There they meet young Ben and Aisha and soon discover they all have hidden powers. However, their innocent play soon takes a dark turn and strange things begin to happen.
Vogt says he was inspired to write this script after he had kids of his own and "you see your kids doing something that sparks a memory of your own childhood… the world looks totally different [at that age]."
"One aspect I want to delve into is a child's perspective of the world, where everything is magical but can feel dangerous as well, because you don't know the limits of the physical world," adds the Norwegian filmmaker.
Producer Maria Ekerhovd of Oslo-based MER Film says: "It's a supernatural thriller and it has a lot of genre elements, but it's so much more than that. It takes you back to your own childhood memories and opens up this magical world of childhood."
The Innocents will premiere at Cannes in Un Certain Regard on July 11 and Protagonist Pictures handles international sales outside of the Nordics.
Given its summer 2019 shoot, the production could have been ready in time for Cannes 2020 if that edition had gone ahead. But following its cancellation, as a result of the pandemic, the team decided to wait for a slot at this year's physical festival instead.
It means Vogt has a doubleheader in Cannes this year, having also co-written Joachim Trier's The Worst Person in the World – which plays in Competition – continuing a collaboration that comprises four previous features.
Ekerhovd explains that The Innocents shot for 46 days, longer than a typical shoot for an independent Norwegian film, "because of the kids' shorter working hours and also because it's a very visually ambitious film."
The film's budget is around $3.5m (NOK 32.2m). Co-producers are Zentropa Sweden, Finland's Bufo, Denmark's Snowglobe and France's Logical Pictures. Backers include the Norwegian Film Institute, Swedish Film Institute, Danish Film Institute, Finnish Film Foundation, Mediefondet Zefyr, Nordisk Film & TV Fond/Nordic Genre Boost, Film i Väst and Eurimages.
MER also has a distribution arm and will release the film in Norway, which Ekerhovd notes is "a game changer for us" as it will mark their biggest release.
Casting the children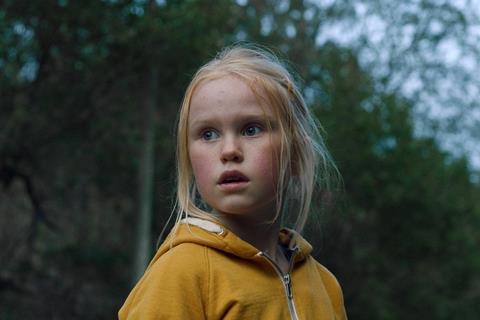 Casting the kids took nearly two years and involved thousands of young actors.
"This film has its challenges but what we did right was invest time in casting and prep," says Vogt. "We were looking for kids for a long time. We had a group of kids we believed in and did a test shoot to see if they liked working. We discovered that some other kids didn't have the stamina or started to rebel when they got attention on a film set.
"The most important thing is, of course, that they're talented and that shows to the camera. Almost as important is that they want to work."
The adult cast includes Ellen Dorrit Petersen, who memorably starred in Vogt's 2014 debut feature Blind, Kadra Yusuf, and Morten Svartveit. Ida, the lead child, is played by Petersen's own daughter, Rakel Lenora Fløttum while the other child actors are Alva Brynsmo Ramstad, Sam Ashraf and Mina Yasmin Bremseth Asheim.
"Eskil had written the parts as a boy and his brother," reveals producer Ekerhovd. "But the girls were all so good that we knew we had to work with them. In casting, Eskil said, 'I want it to be open when it comes to gender, background. Let's see who gives us the most.' That made the story even stronger."
The script includes some disturbing moments so the young actors were not allowed to read the full version – only descriptions of their scenes and lines.
"I try to be honest with them but I don't tell them the whole story in one go because that would be too much information," Vogt explains.
"I try to create a really playful environment on set and they have breaks when they can play. But they are very serious. We treated them like actors. We gave then some basic skills for acting and some basic tools. After a while, they asked me the same kinds of questions professional actors do. They want to know.
"They are better when they understand what they are doing, not saying something to them like, 'Pretend you lost your favourite teddy bear'. If you want them to learn lines for a scene, they have to understand the logic behind it."
Casting director Kjersti Paulsen was also pivotal as a coach on set, guiding the children through a three-month workshop before the start of production. "I've dreamed about doing it this way for many years, but there is not usually the time or money," she says of productions with child actors.
She gave each youngster a little blue suitcase that was a "toolbox" during the process. "Now they know they can go pick from the toolbox, which had a sad bag, a glad bag and an angry bag. The grown-up actors said. 'We want a suitcase like that!"
The setting of Romsås, on the outskirts of Oslo, was crucial. "This place is near the city, but at the edge where nature starts," says Vogt. "You have these buildings that are more cinematic when they are next to the forest.
The director of photography is Sturla Brandth Grovlen, whose credits include Victoria, Wendy and Oscar-winner Another Round. "He's big on handheld, and is so intuitive and sensitive to the drama unfolding, which is a great combination with Eskil who is more visually austere, very planned and precise," says producer Ekerhovd.
Other key collaborators include music supervisor Pessi Levanto and editor Jens Christian Fodstad.
The mood on set was friendly and relaxed and not just for the youngsters. On the day of Screen's visit, there was a lunchtime raffle for wine to drink during weekend downtime – but the crew is also "very concentrated," adds Ekerhovd. "We made sure to hire crew who would work well with children and be gentle."