The star of Notting Hill and the upcoming Florence Foster Jenkins received the honour at the BFI's annual Chairman's Dinner.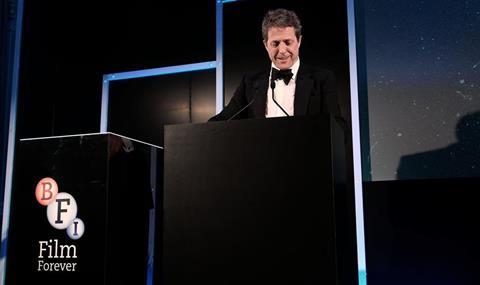 The BFI has bestowed its highest honour, the BFI Fellowship, on BAFTA and Golden Globe-winning actor Hugh Grant.
The British actor received the award during the BFI's annual Chairman's Dinner, which took place this evening at London's Corinthia Hotel and also served as Greg Dyke's retirement dinner as BFI chair.
Recent recipients include Oscar-winner Cate Blanchett and comedy icon Mel Brooks, who both received the honour last year. Other previous Fellowship recipients include Ralph Fiennes, Dame Judi Dench and Orson Welles.
BFI chairman Greg Dyke said of Grant: "With impeccable comic timing and huge doses of his unique, ironic self-deprecating and very British charm, Hugh always pulls off the hardest thing of all – a seemingly effortless performance. I can assure you it's not. Hugh's acting talents are prodigious and his contribution to cinema enormous.
"He is a British icon and has been making literally billions of people all over the world laugh, cry - and fall in love with him of course - for over 30 years."
Grant is best known for Four Weddings And A Funeral (1994), Notting Hill (1999), Bridget Jones's Diary (2001), About A Boy (2002) and Love Actually (2003).
More recently, he took roles in Cloud Atlas (2012) and The Man From UNCLE (2015) and will next be seen opposite Meryl Streep in Stephen Frears' Florence Foster Jenkins, set for UK release on May 6, which tells story of a New York heiress who dreamed of becoming an opera singer.