Disney's The Good Dinosaur is the week's highest new entry with $4.4m (£2.9m) from 513 sites.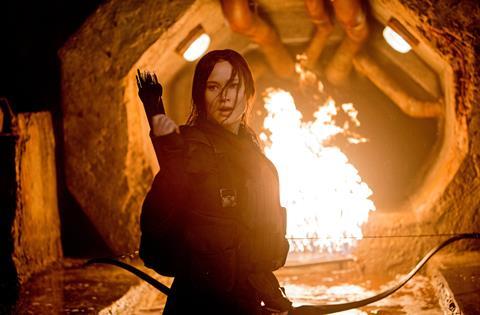 LIONSGATE
Falling around 50% (excluding previews), The Hunger Games: Mockingjay - Part 2 still had more than enough to retain top spot at the UK box office over a busy weekend of new releases.
Lionsgate's climactic chapter in the young adult franchise took a further non-final $6.8m (£4.53m) for an 11-day tally of $29m (£19.32m). At the same stage, Catching Fire stood at $32.4m (£21.59m) and Mockingjay - Part 1 had grossed $31.9m (£21.25m).
By the end of next week, Mockingjay - Part 2 should be close to overtaking The Hunger Games' $36m (£24m) UK haul, but Part 1's $46.7m (£31.1m) result could well be a trickier target to match.
Also for Lionsgate, Brooklyn added $299,000 (£199,177) for $6.5m (£4.35m) after four weeks in play.
DISNEY
The week's highest new entry came in the form of Disney's The Good Dinosaur as it beat spies and gangsters to chart second.
Pixar's second outing of 2015 took $4.4m (£2.9m) from its 519 sites which does rank as the second lowest Pixar debut, ahead of only Cars' $4m (£2.67m) from its 513 sites.
However, with Christmas just around the corner and no family competition until The Peanuts Movie on Dec 21, The Good Dinosaur is far from extinct at the UK box office and is likely to have a lengthy run.
SONY
Falling 44% in its fifth weekend, Sony's Spectre shot to a further $3.3m (£2.2m) as it dropped to third.
The latest James Bond mission is now up to a mighty $132.7m (£88.4m) after 35 days in play. However, after putting up a decent fight, it's now tracking further behind Skyfall which stood at $137.3m (£91.49m) at the same stage.
Also for Sony, The Lady in the Van fell a respectable 41% on its way to a $1.4m (£950,000) third weekend for a terrific $13.6m (£9.05m) to date. It's still posting strong midweek numbers, adding over $2.4m (£1.6m) over the past Mon-Thurs.
Hotel Transylvania 2 and The Perfect Guy have grossed $29.3m (£19.5m) and $341,000 (£227,000), respectively.
FOX
Charting fourth on its UK bow was Fox's Bridge of Spies with a non-final $2.5m (£1.68m) from its 531 sites, including just over $300,000 (£200,000) in previews.
In terms of Steven Spielberg outings in the UK, that's on par with Lincoln's $2.5m (£1.66m) from 472 sites and ahead of the likes of The Terminal ($2.2m/£1.45m from 436) and Munich ($1.8m/£1.2m from 383).
It's worth noting that even without its previews, Bridge of Spies' Fri-Sun tally of $2.2m (£1.47m) would have also seen it chart fourth.
Also for Fox, Prem Ratan Dhan Payo stands at $2.3m (£1.52m) after three weeks in play, while The Martian and Suffragette have amassed $35.1m (£23.4m) and $14.5m (£9.68m), respectively.
WARNER BROS
Rounding off this week's top five was Warner Bros' Black Mass with a $1.9m (£1.27m) UK debut from its 448 sites, including $551,000 (£337,000) in previews.
That already makes it director Scott Cooper's best-ever UK performer, topping Crazy Heart's $1.5m (£984,880) tally. Based solely on Fri-Sun tallies, Black Mass' $1.35m (£902,000) would have seen it land in sixth.
Also for Warner Bros, Pan has sailed to $13.2m (£8.77m) after seven weeks in play.
STUDIOCANAL
Carol started its UK run with a promising $812,000 (£540,633), including previews from its 206 sites through StudioCanal.
The critically acclaimed romance scored the best ever opening for director Todd Haynes, topping Far from Heaven's $680,000 (£452,369) from 195 sites, and Carol will hope to prosper midweek due to its older-skewing audience.
UNIVERSAL
Falling over 60% in its third weekend, Universal's Steve Jobs added $130,000 (£86,660) for $3.2m (£2.1m) to date.
ENTERTAINMENT
Unsurprisingly after its soft opening, Entertainment's The Dressmaker fell heavily on its way to a $92,000 (£61,397) weekend for $812,000 (£539,480) after ten days in play.
PICTUREHOUSE ENTERTAINMENT
Released in five sites through Picturehouse Entertainment, Glasgow Film Festival 2015 audience award winner Radiator posted a UK debut of $8,500 (£5,644).
CURZON ARTIFICIAL EYE
In its second weekend, Curzon Artificial Eye's Love grossed $7,000 (£4,676) for $85,000 (£56,679) to date.
UPCOMING RELEASES
This week sees saturation releases for eOne's Christmas with the Coopers (opens Dec 1) and Fox's Victor Frankenstein (opens Dec 3).
Sony's The Night Before and Universal's Krampus both receive wide releases, while Metrodome's Sunset Song and Peccadillo Pictures' ChemSex are among the films receiving a limited release.