Icon Film Distribution acquires UK rights for Tom Tykwer's A Hologram For The King starring Tom Hanks.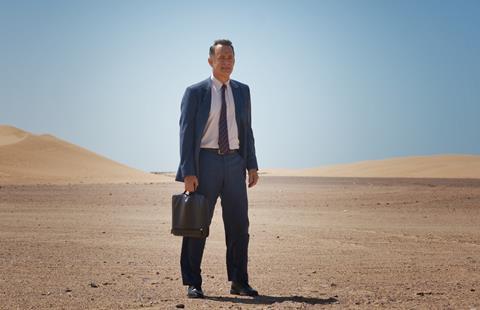 A Hologram for the King, a comedic drama starring Tom Hanks and directed by Tom Tykwer, has been acquired by Icon Film Distribution for the UK.
Tykwer, the German filmmaker behind Run Lola Run and Cloud Atlas, also adapted the script from the eponymous novel by Dave Eggers.
Hanks co-stars with Sarita Choudhury (Homeland), Omar Elba (Intelligence), Tracey Fairaway (Enough Said), David Menkin (Zero Dark Thirty) and Tom Skerritt (Ted, Top Gun).
Hanks plays Alan Clay, an American salesmen who finds himself in Saudi Arabia making a desperate bid to save his ailing career after the construction of a huge new complex in the middle of the desert.
The film is currently in post-production, following shooting in Morocco, Germany, Egypt and Saudi Arabia.
The film is produced by Uwe Schott and Stefan Arndt of X Filme Creative Pool, Arcadiy Golubovich and Timothy D. O'Hair of Primeridian, and Gary Goetzman of Playtone.
The film reunites Hanks and Tykwer with Schott and Arndt who previously worked together on the ambitious Cloud Atlas, co-directed by the Wachowskis.
Executive producers are Steven Shareshian of Playtone, Claudia Bluemhuber of Silver Reel, Gaston Pavlovich of Fabrica de Cine, Jim Seibel and Bill Johnson of Lotus Entertainment, and Dave Eggers.
The deal was negotiated by Lotus Entertainment co-chairman Jim Seibel and Icon Film Distribution CEO Ian Dawson.
The film is being sold internationally by Lotus, while CAA is representing domestic rights.