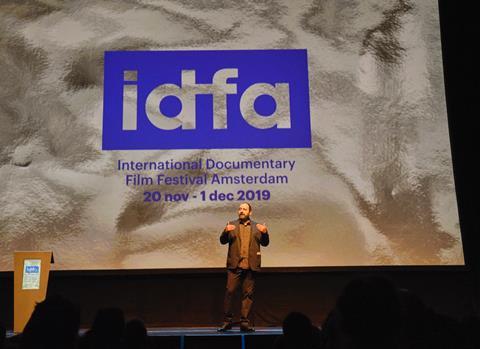 The International Documentary Festival Amsterdam (IDFA) got off to a powerful start on Wednesday evening (November 20) with Iranian work Sunless Shadows about a group of teenage girls serving time in a juvenile detention centre for murdering either their father, brother or another male relative.
It is the sixth feature documentary from Iranian director Mehrdad Oskouei, whose previous work Starless Dreams premiered in the Berlinale in 2016, where it won the Amnesty International Film Prize.
In a conversation with Screen, IDFA artistic director Nyrabia said it was the "perfect film" to open the festival this year as it pushed on with it efforts to boost female representation both behind and in front of the camera.
The festival is celebrating the highest percentage of films by female filmmakers in its 32-year history. Two thirds, or 64%, of the competition titles are directed by women, while 47% of the films in the overall programme, including shorts, are by female directors.
As an example of the women with films in the festival this year, Nyrabia introduced the youngest filmmaker in the festival, Canadian-Vietnamese Carol Nguyen, onto the stage at the opening ceremony.
She is attending with her student short work No Crying At The Dinner Table, following her attempts to get to the bottom of why her immediate family has such a hard time talking about their emotions.
"Today, is the best day to be a woman in film," she told the audience. "Society and our audiences are more conscious than ever about the lack of gender and racial parity in film. Film festivals have even set gender parity goals for themselves. We are all demanding it. Because of this, I am optimistic."
A total of 329 films and new media works from 85 countries – 147 of them world or international premieres - will be showcased at this year's edition of IDFA and 3,000 professional guests are expected to attend.
Highlights include the virtual attendance of whistleblower Edward Snowden to take part in a discussion this weekend around the issues raised in Norwegian director Tonje Hessen Schei 's work iHuman exploring the dark side of artificial intelligence.
"I'm very curious to listen to the philosophical side of Ed Snowden," Nyrabia told Screen.
Other prominent names due to physically touch down in Amsterdam over the next 10 days include Iranian auteur Mohsen Makhmalbaf, who will be interviewed by Nyrabia as part of the IDFAcademy, the festival's programme aimed at emerging documentary professionals.
French director Alain Berliner will also be speaking at the IDFAcademy while Chilean master Patricio Guzmán is a guest of honour alongside veteran Danish director Jorgen Leth.
Guzmán will be feted with a retrospective of his work including his 1976 film The Battle Of Chile: The Coup d'Etat and his most recent production The Cordillera Of Dreams. Leth will present his new film I Walk, in which the Haiti-based director reflects on his own ageing and the trauma he experienced as a result of the 2010 earthquake in Haiti. It is screening in the main competition.
Further guests include Chris Hegedus, the long-term partner and collaborator of the late DA Pennebaker; Egyptian director Marianne Khoury, composer Max Richter and World Economic Forum founder Klaus Schwab. Schwab is attending for the premiere of Marcus Vetter's new documentary The Forum going behind the scenes of the influential event in Davos every January.
The future of the EDN
Addressing issues outside the main IDFA 2019 programme, Nyrabia reflected on his public statement on Facebook in September, criticising international industry support for Saudi Arabia's new Red Sea Film Festival given the country's human rights track record.
"I'm very much open to the many different interpretations and understandings of what a festival can be but there is a red line where we just start simply to sell out. I think that's not OK," he told Screen. "We have a responsibility to protect the integrity of the sector. That was one of those moments where I thought one has to raise a voice."
Nyrabia also explained why IDFA is not presently working wtih the the European Documentary Network (EDN) following recent upheavals at the troubled industry body. The EDN is holding a crucial annual general meeting during IDFA following its move from Copenhagen to Amsterdam and the departure of several of its staff members.
"I believe organisations such as EDN are key. This community needs every possible way of coming together, connecting and empowering each other," said Nyrabia, a former EDN member. "IDFA has always been a partner of EDN but we are one of the many organisations which suspended our collaboration until we understand what is happening."
"We are looking forward to seeing a clearer vision and a normal election process which will give a chance to the organisation to remain alive. Otherwise, I think the industry has to find its next organisation."
Market prospects
IDFA is expecting 3,000 international filmmakers and industry guests to attend this year's event amid turbulent times for the documentary world as streaming platforms continue to disrupt traditional funding and distribution models. The challenges facing the business will be tackled in a number of talks and workshops, including one called 'Surviving as a documentary filmmaker'. It will explore whether it is possible to build sustainable careers in the documentary sector.
Philippa Kowarsky, founding chief of Tel Aviv-based sales company Cinephil, believed the market has become very polarised. High profile features such as The Cave, Free Solo and Three Identical Strangers may do strong business but mid-range titles struggle, she suggested.
"In reality, there are 10 to 20 films that do exceptionally well every year," she said. "But what we had once, a middle class of documentaries, made not for $1 million but for $250,000, those films are almost impossible to be make."
Esther van Messel, head of Swiss-based First Hand Films echoed these sentiments. She said she will have "more meetings than ever before" at IDFA but that public broadcasters are "sitting scared" in face of budget cuts and fierce competition from streamers.
"There are two different movements. The films that we can finance in Europe and the films that are on demand. I don't think those two overlap that well at this point," she said. "It's really important that we find ways to reach broader audiences through the streaming platforms but it is also really important that we keep making the visionary films that have changed the world and the industry and that are not dependent on somebody demanding ahead. Big innovations have never come on demand."
In response to the changing market conditions, First Hand Films is setting up its own fund through which it can invest in international documentary projects, becoming involved in them at an earlier stage.
First deals
In a sign there is still an appetite among both theatrical and TV buyers for documentaries, Vienna-based doc specialists Autlook revealed it has sealed multiple deals on its crowdpleaser Midnight Family by Luke Lorentzen, which premiered in Sundance.
New theatrical deals include to Australia (Madman), UK (Dogwoof), Switzerland (Outside The Box) and Former (Restart.)
For TV, it has sold to Germany and France (ARTE ZDF), Estonia (ETV), Turkey (TRT), the Netherlands (VPRO), Norway (VGTV), Japan (NHK), Spain (Telefonica), Africa and MENA (AMC), Taiwan (Daaitv), Belgium (VRT) and China (Wingsight). The company is also fielding offers from Poland, Russia, Italy, Scandinavia and Latin America.
Additionally, the UK's Dogwoof added two new IDFA titles to its slate just before the festival began, Sophie Dros' King Of The Cruise, in IDFA's competition for Dutch documentary, and Laura Herrero Garvin's La Mami, in the main competition.
IDFA runs until December 1.