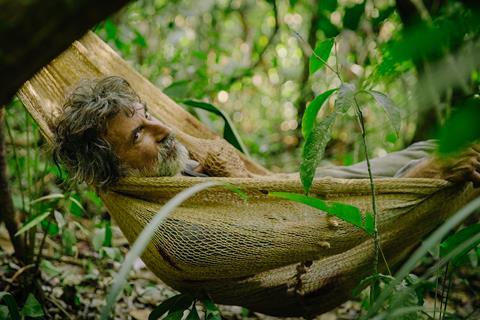 El Father Plays Himself, Mo Scarpelli's documentary about a turbulent film shoot that is currently screening at IDFA, has been picked up by Dutch distribution outfit Picl for the Netherlands.
The deal was secured directly with Manon Ardisson's production company Ardimages UK. Picl is planning a theatrical and digital platform release from December 17.
The film marks the third documentary feature from Italian-American director and cinematographer Scarpelli, whose Frame By Frame began a long festival run at SXSW in 2015 and whose Anbessa premiered at the Berlinale in 2019.
In El Father Plays Himself, Scarpelli follows young filmmaker Jorge Thielen Armand as he returns to Venezuela, inspired to make a film based on his father's life in the Amazon jungle. Casting his father to play himself, the shoot spirals as his father confronts his struggles with addiction and a life devoid of his son. Armand's completed film, La Fortaleza, competed at the International Film Festival Rotterdam earlier this year.
El Father Plays Himself debuted at Visions du Réel in April, where it earned a special mention for best international film. It is now screening in the Best of Fests section of IDFA.
The film was the only documentary to be awarded a TorinoFilmLab audience design grant of €45,000 last week, to support its distribution in the Netherlands, Canada and the UK. Negotiations with distributors in Canada and the UK are ongoing, and the Netherlands will be the first to release the film.
The film is produced by Manon Ardisson of Ardimages UK, with US-based Rake Films and La Faena Films, which has offices in Venezuela and Canada. It is produced in association with Canada's Channel 6 Media, the Netherlands' Feverfilm and Venezuela's Tres Cinematografía.