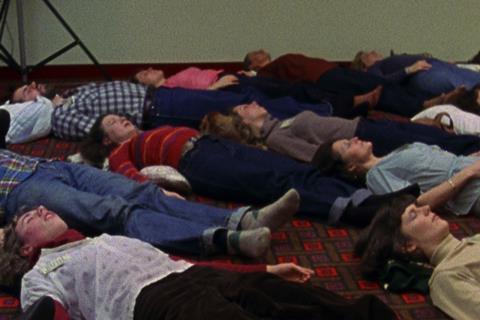 Pia Borg's "documentary horror" Michelle Remembers was among a raft of winners at TorinoFilmLab's annual Meeting Event, which shifted entirely online this year due to the pandemic.
The co-production forum, which usually takes place in the Italian city of Turin, virtually awarded its prizes this evening, marking the end of the five-day event that ran November 16-20.
Scroll down for full list of winners
The first of two €50,000 TFL production awards, funded by Creative Europe, went to Michelle Remembers, a documentary exploring the case of a young woman who unearthed memories of satanic abuse under hypnosis and sparked panic around the world.
Directed by Maltese-Australian director Borg, whose short Demonic debuted at Cannes Critics' Week in 2019, the film is produced by Australia's Ritual Pictures and co-produced by France's 5 à 7 Films.
The other €50,000 production award went to The Mysterious Gaze Of The Flamingo, a Chilean drama set in 1984 in which a girl fights against rumours of a disease said to be spread by gay men through their gaze.
Produced by Giancarlo Nasi of Santiago-based Quijote Films, it will mark the feature debut of Chilean writer-director Diego Céspedes, whose short The Summer Of The Electric Lion won the top Cinéfondation prize at Cannes in 2018.
Two further TFL production awards, worth €40,000 each, went to The Caravan by Czech writer-director Zuzana Kirchnerová, which follows a single mother on a road trip across Italy with her disabled son; and Diaphanous, a Hong Kong-France co-production by Iranian filmmaker Dornaz Hajiha, produced by Chinese Shadows CEO Isabelle Glachant.
In addition, Lucrecia Martel's hybrid documentary Chocobar picked up the TFL Co-Production Fund prize of €50,000.
The film, which centres on the murder of indigenous Argentinian activist Javier Chocobar by a white landowner, previously won a top prize from Locarno's The Films After Tomorrow initiative, aimed at projects that had stalled due to the Covid-19 pandemic. It received a further boost this week via International Film Festival Rotterdam's Hubert Bals Fund.
TFL organisers said 61 projects were virtually showcased to more than 350 festival representatives, distributors and sales agents, and included over 700 one-to-one meetings.
Earlier today, Screen revealed further details on the eight projects pitched as part of TFL's Coming Soon event.
The TorinoFilmLab is an initiative of the Museo Nazionale del Cinema with the support of the European Union's Creative Europe Media program, Ministero dei Beni e delle Attività Culturali e del Turismo (MiBACT), Regione Piemonte and Città di Torino.
TorinoFilmLab Awards 2020
TFL Production Awards
Michelle Remembers (Aus-Fr) €50,000
Dir. Pia Borg / Prod. Helen Olive
The Myseterious Gaze Of The Flamingo (Chile) €50,000
Dir. Diego Céspedes / Prod. Giancarlo Nasi
The Caravan (Cze-Slo-It) €40,000
Dir. Zuzana Kirchnerová / Prods. Jakob Viktorín, Pavla Janoušková Kubečková
Diaphanous (HK-Fr) €40,000
Dir. Dornaz Hajiha / Prod. Isabelle Glachant
TFL White Mirror
Blue Star (Gre) €3,000
Writer: Stella Kyriakopoulos / Co-writer: Margaret Shin
CNC Award
Nearness (Fr-Ven) €8,000
Wri/Dir. Jorge Thielen Armand
Special Mentions
Ciudad Sin Sueño (Sp) Guillermo García López
Home (Isr) Or Sinai
Post-Production Award
Melting Of The Ruler (Mont) €10,000 post services
Dir. Ivan Salatić / Prod. Jelena Angelovski
Sub-Ti Award
Karaoke King (It-US) subtitle services
Dir. Federica Gianni / Prods. Lara Costa-Calzado, Tatiana Bears
TFL Audience Design Fund Awards
El Father Plays Himself (UK-Can-It-Ven) €45,000
Dir. Mo Scarpelli
The Salt In Our Waters (Bang-Fr) €45,000
Dir. Rezwan Shahriar Sumit
White Building (Cam-Fr-China) €45,000
Dir. Kavich Neang
TFL Co-Production Fund 2020
Chocobar (Arg-US-Den-Mex) €50,000
Dir. Lucrecia Martel