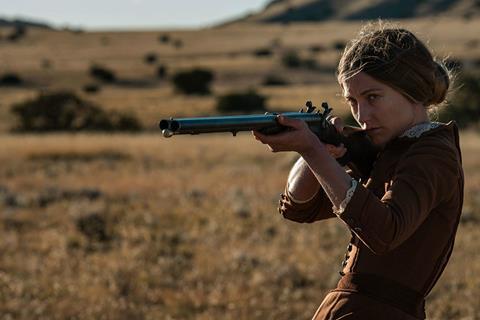 IFC Midnight has picked up US rights to Emma Tammi's TIFF selection The Wind produced by Soapbox Films and Divide/Conquer and plans a 2019 release.
The female-oriented supernatural horror received its world premiere in TIFF Midnight Madness and will screen at Fantastic Fest this weekend in Austin, Texas.
Teresa Sutherland wrote the screenplay about a woman who relocates with her husband to settle in the American frontier where an evil presence lurks.
Caitlin Gerard stars with Julia Goldani Telles, Ashley Zukerman, Dylan McTee, and Miles Anderson.
"Emma Tammi's impressive debut into narrative filmmaking starring a break out performance from Caitlin Gerard packs the kind of fierce ingenuity we are continually searching for when we distribute films," said IFC Films/Sundance Selects co-presidents Jonathan Sehring and Lisa Schwartz.
"We're thrilled to bring such an intelligently crafted and distinct vision in the horror genre to audiences around the country."
"IFC's history of cultivating large audiences for smart, genre-bending films makes them the ideal partner to bring this beautiful, thought-provoking, and ultimately horrifying film to market," said Tammi, and producers Christopher Alender and David Viste.
"It is an important time to champion storytelling that takes risks, and IFC emboldens those narratives that challenge and move us, while entertaining. We are very excited to be part of the family and look forward to working with their talented team to bring The Wind to the U.S. audience."
Adam Hendricks, Greg Gilreath, John Lang, Zac Locke, Henry Jacobson, David A. Smith, and Tammi served as executive producers.
IFC Midnight brokered the deal with ICM Partners and XYZ Films on behalf of the filmmakers.