A total of 26 film projects will participate in this year's co-production market in Rotterdam.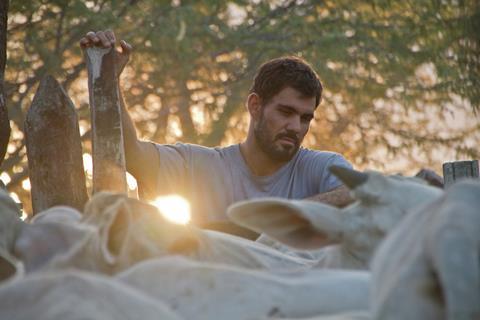 Scroll down for full line-up
The line-up for the 2017 edition of the International Film Festival Rotterdam (IFFR) co-production market CineMart has been revealed.
The 34th edition of the co-pro event features 26 projects and will run Jan 29 – Feb 1 as part of the IFFR PRO Days industry strand of the wider festival (Jan 25 – Feb 5).
Film-makers presenting projects at this year's edition include Brazilian director Gabriel Mascaro, whose 2015 feature Neon Bull [pictured] won prizes in Venice and Toronto. His next project is titled Centre Of The Earth.
Also participating in the event will be UK director Ben Rivers, whose credits include The Sky Trembles And The Earth Is Afraid And The Two Eyes Are Not Brothers. His latest project, After London, is being produced by Ben Wheatley's Rook Films. Rivers previously won Rotterdam's Tiger Award for his 2014 short film Things.
Nepalese director Deepak Rauniyar, whose latest feature White Sun won the Interfilm award at Venice this year and recently played at Dubai Film Festival, will bring his project A King to the event. Eva Husson, director of Bang Gang (A Modern Love Story), which played at Toronto and London film festivals last year, is presenting her new project Less Filles Du Soleil.
Three awards will be up for grabs for the participanting projects: The Eurimages Co-Production Development Award (worth €20,000), the ARTE International Prize (€6000), and the Wouter Barendrecht Award (€5000).
Marit van den Elshout, head of IFFR PRO and CineMart, commented on the selection: "Having received more applications than in the last years (over 450) proved to us that our responsibility of making a focused selection, is bigger than ever. The format of bringing talent together with their potential financiers still works, however in order for the industry to adapt to the world today and to stay realistic, we have to look carefully at the projects we
Full list of projects:
(Art:Film) After London - Ben Rivers (UK) Rook Films
Almost in Love - Leonardo Brzezicki (Argentina) Ruda Cine
Aquilo que arde - Oliver Laxe (Spain) Miramemira
Asia - Ruthy Pribar (Israel) Gum Films
Centre of the Earth - Gabriel Mascaro (Brazil) Desvia
Death on the Streets - Johan Carlsen (Denmark, USA) Makrorama
Fear Eats the Soul - Maria Eriksson (Sweden) Anagram Film & TV
Les Filles du Soleil - Eva Husson (France) MANEKI FILMS
Die Frau des Piloten - Anne Zorah Berrached (Germany) Razor Film Produktion GmbH
Goeree - Peter Hoogendoorn (The Netherlands) Circe Film
Iniciales SG - Rania Attieh / Daniel Garcia (Argentina) Frutacine
January - Andrey Paounov Bulgaria) Portokal
Jumpman - Ivan I. Tverdovsky (France, Russia) New People Film Company
(Art:Film) Kindness - Stefan Tsivopoulos (Greece) HOME Artist Film (UK)
A King - Deepak Rauniyar (Nepal) Aadi Production
Martin Eden - Pietro Marcello (Italy) Avventurosa
Martyr's Lane - Ruth Platt (United Kingdom) Ipso Facto Productions
Ningdu - Lei Lei (China) Chinese Shadows (Hong Kong)
De Omweg - Klaartje Quirijns (The Netherlands) Submarine Film
La Piel Pulpo - Ana Cristina Barragán (Ecuador) Caleidoscopio Cine
Poissonsexe - Olivier Babinet (France) COMME DES CINÉMAS
A Spectacle - Michael O'Shea (USA/UK )Pierpoline Films
Sticks and Stones - Martin Skovbjerg (Denmark) Snowglobe
Three Sisters of Cukurca - Emin Alper (Turkey) Liman Film
Vaca que canto una cancion sobre el futuro - Francisca Alegria (Italy, Chile) Jirafa
Vengeance is Mine, All Others Pay Cash – Edwin -(Indonesia) Palari Films