The director spoke to Screen ahead of delivering a masterclass at International Film Festival Rotterdam.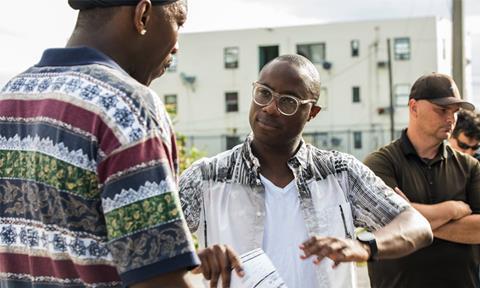 Barry Jenkins isn't yet a member of the Academy of Motion Pictures, Arts & Sciences (AMPAS.) Nonetheless, earlier this week, his film Moonlight scooped eight Oscar nominations.
Speaking at International Film Festival Rotterdam, Jenkins has given his reaction to the film's extraordinary awards performance and has shared his perspective on the diversity row (and the lack of black representation) in last year's Oscars.
"We were already in post at that point and I watched it (the 2016 Oscars) as a spectator. I thought it was very interesting. The film industry that I work in is not homogenous. I think what all that commentary was about was an attempt to have all these governing bodies, all these awarding bodies, reflect the industry we work in, the world we actually live in," Jenkins told ScreenDaily of the heated debate last year. "As a result of the work that has been done, now we arrive at this point and I think the awards this year do reflect more on the world we live in and the industry I work in."
"The fact that all this work exists this year, to be framed as a response to that, not that it is purely coincidence but the work has been going on to bring some of these voices from the margins into the centre."
"No matter what happens in the next 30 days, whether we win this or lose that, it doesn't matter," Jenkins added. "We created it (Moonlight) without expectations and look at all the results that have come out of it."
The director said that he was "not a voting member of any of these bodies." Having made only two features, he wasn't surprised that he hadn't yet had the opportunity to join AMPAS.
Jenkins was coy about is future projects. "My primary work right now - why I am here in Rotterdam and wasn't home when the nominations came out - is to show this film to people and to get it to whatever audience is willing to watch it."
The director revealed that it was Plan B who suggested British actress (and now Oscar nominee), Naomie Harris for the role as the neglectful and drug addicted mother. "Naomie had a very interesting process of building this character. At first, she had scepticism because she never wanted to play a drug addict. I totally understood that but then, I explained to her that this character is not a drug addict, it is a fate that befalls her, and said to her that you're actually playing this version of my mum and I would never try to create a version of my mum that didn't have the full humanity intact."
At the time, Harris was travelling to promote Bond movie, Spectre. "She was doing all this research because she has never done drugs, she has never had a sip of alcohol. She is totally different to who this character was in real life," Jenkins said.
Future plans
When awards season is over, Jenkins will go back to working in exactly the same way as when he was preparing Moonlight. "What keeps me grounded is that when this is all done, I am going to open my notebook and you know what is going to be there - a blank page," the director remarked. "As a writer, that blank page will humble the hell out of you. It always does and I am sure it will again."
As for the widespread ovation that Moonlight has received, Jenkins said it was "never my goal to make a film that could apply to everyone and that everyone could see themselves in. It was more about trying to do the best job we could to show off these characters and to show their lives, to literally create a film in its aesthetics where the audience has to embody the character at different moments. Part of that experience is why the movie has resonated as far away as Rotterdam from Miami, Florida."
Moonlight is screening throughout this week at International Film Festival Rotterdam. Jenkins was speaking to Screen in advance of delivering a Masterclass as part of the festival's Black Rebels programme.