Iain Morris and Damon Beesley depart Bwark to set up Fudge Park with former Bwark execs.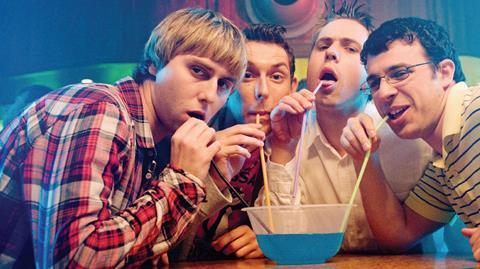 The Inbetweeners creators Iain Morris and Damon Beesley have exited Bwark Productions to set up new film and TV outfit Fudge Park.
According to the company Fudge Park has already secured TV commissions from the BBC and Channel 4, with details due to be announced shortly.
A distribution and development deal has been agreed with BBC Worldwide, who will oversee the global sales of Fudge Park's finished TV programmes and formats.
Joining Morris and Beesley as co-founders are Bwark creative director Simon Wilson, Bwark MD Mark Lesbirel, Bwark head of production Leo Martin and regular Bwark producer Phil Gilbert.
A slate of comedy films is also in development, allowing Morris and Beesley to continue to produce, write and direct, following on from the huge big screen success of The Inbetweeners franchise.
Bwark, which was sold to Zodiak in 2011, now faces an uncertain future in light of the mass exodus.
However, ScreenDaily understands that rights to any future Inbetweeners TV episodes or films remain with Bwark and Zodiak.
Morris and Beesley founded Bwark in 2004 after both had previously worked as comedy commissioners; Morris for Channel 4, where he commissioned Peep Show and Phoenix Nights, and Beesley for E4.
Morris and Beesley said: "We're very sad to have left Bwark behind us, but we're incredibly excited about our future.
"With the formation of our new company Fudge Park we're pleased to be expanding our creative output with the help of our new partners.
"We look forward to announcing our commissions shortly which will give you a real flavour of the projects you can expect from Fudge Park."