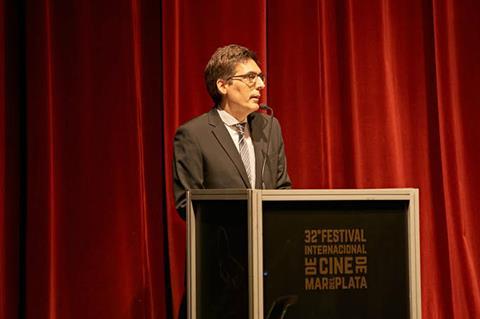 Fernando Lima, the vice-president of Argentina's national film body INCAA, has hailed the success of the recent Mar del Plata festival and Ventana Sur market.
Lima, who assumed his post earlier in the year, said despite a leaner festival that screened 100 fewer films than last year and the use of 16 venues compared to 20 in 2016, ticket sales were up 20%.
"Mar del Plata is getting bigger and will go from strength to strength," Lima told Screendaily at Ventana Sur at the start of the month. "That's why next year we will have one extra day at the festival and apply what we learned [this year] to make it a better festival."
Peter Scarlet made his debut as artistic director alongside festival president José Martinez Suarez. Next year's dates are November 8-18, 2018.
The fate of the crew of missing submarine ARA San Juan weighed heavily on proceedings. The story unfolded during the festival, which ran from November 18-27, and top brass cancelled the opening party and subsequent celebrations. The closing night ceremony was conducted without music.
"We had to proceed with the festival and we couldn't ignore what was going on," Lima said. "It was very important to us to not forget the festival and also to be clear our thoughts were primarily with what was going on in the sea. Despite all this sadness the festival was still alive."
Lima noted that highlights included the return of Claude Lelouch, who won his first international festival prize at the festival just outside Buenos Aires in 1996.
"He's a star in Mar del Plata," Lima said. "There are a lot of retirees living there and many told him they remembered when he won the prize."
Lima also cited the attendance of Vanessa Redgrave with her directorial debut, the immigration documentary Sea Sorrow, and the status of South Korea as guest of honour, when the delegation agreed to proceed towards a co-production treaty in the new year.
The INCAA vice-president added that at the recent Ventana Sur market (November 27-December 1) organisers of the Blood Window sidebar and Sitges chiefs agreed to stage a genre festival in March 2018 in the Argentinian town of Pinamar to celebrate the 50th anniversary of Sitges.