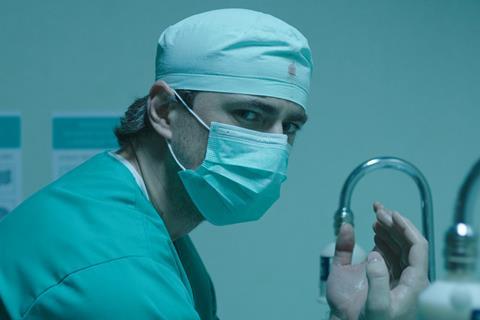 Paris-based Indie Sales has acquired world rights to emerging Romanian filmmakers Gabi Virginia Sarga and Catalin Rotaru's debut feature Thou Shalt Not Kill, ahead of its premiere at Warsaw Film Festival (Oct 12-21).
The film is inspired by a real-life scandal in Romania about terrible hygiene standards in the country's hospitals and the use of substandard, diluted disinfectants to clean operating surgeries.
Rising Romanian actor Alexandru Suciu stars as a young surgeon who starts a solitary fight against a corrupted system after the sudden and suspicious death of one of his patients. Other cast members include Cristina Flutur, who shared the best actress prize at Cannes in 2012 alongside her co-star Cosmina Stratan in Cristian Mungiu's Beyond The Hills.
Directorial duo Sarga and Rotaru's short film 4.15 PM The End of the World – about a courier who has a life-changing encounter with a hitchhiker who announces the end of the world – premiered in the short film competition at Cannes in 2016.
Thou Shalt Not Kill is competing in Warsaw's 1-2 Competition, aimed at first and second features by directors from all over the world.
"We grew up in communism," said Sarga and Rotaru. "In those times, we were always told not to speak up. I thought this has changed by now. But in 2018 we hear the same thing: shut up, it's not your problem, let others fix it. Our film tells the story of a doctor who cares, who gets involved and who has the courage to say out loud that the system is corrupt."
The film is produced by Adina Sădeanu at Bucharest-based Axis Media Production and co-produced by Sarga and Rotaru's Green Cat Film.
Thou Shalt Not Kill was funded with the support of the Romanian Film Fund, the National Television of Romania and Zenith Media and was shot in just 21 days in Bucharest in November 2017.
Simon Gabriele, Indie Sales head of acquisitions, said: "We are delighted to work with Catalin and Gabi. The film is a very strong and universal statement about corruption and modern heroism. We follow the moral fight of a surgeon who won't let the system win."
Romanian distribution is handled by Idea Film Distribution which will release it in early 2019.