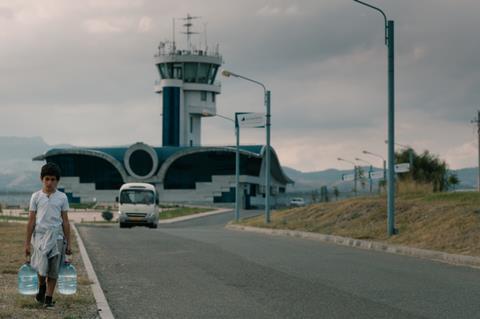 Paris-based company Indie Sales has boarded sales on Armenian-French director Nora Martirosyan's debut feature Should The Wind Drop, following its selection by both the Cannes Film Festival and the parallel ACID section for their special 2020 labels.
Both selections were announced last week to replace the physical editions that were cancelled due to the Covid-19 pandemic.
The drama, which was previously announced with the title Should The Wind Fall, unfolds against the backdrop of a small, unspecified breakaway republic in the Caucasus, which is trying to open its own airport.
French actor Grégoire Colin plays an auditor charged with appraising whether the new facility meets international aviation standards, who finds himself uniting with a young local boy to help the isolated territory open up to the outside world.
Paris-based Sister Productions produced the film. "It's a haunting film that despite being anchored in a distant and poorly known corner of the earth carries a universal message of freedom, vitality and emancipation," commented producer Julie Paratian.
Martirosyan was born in Armenia and now lives in France. She studied in the French visual art school Le Fresnoy and has a background as a video artist.
ACID is set to present the film theatrically in a special showcase in Paris in late September. Paris-based Rouge Distribution is planning to release the film in France in early 2021.
Indie Sales and the producers are also seeking festival berths. They have no plans to screen it at the online Marché du Film, running June 22-26, preferring instead to wait for a festival launch.
"Nora Martirosyan is a very talented and unique voice, capturing the concerns of a country under-represented in contemporary world cinema. It's a film that shows landscapes and faces we're unfamiliar with," commented Indie Sales head of festivals Clément Chautant.
The feature was developed at the Villa Medicis in Rome and also participated in Cannes Cinefondation's Atelier and Locarno's Open Doors in 2014.