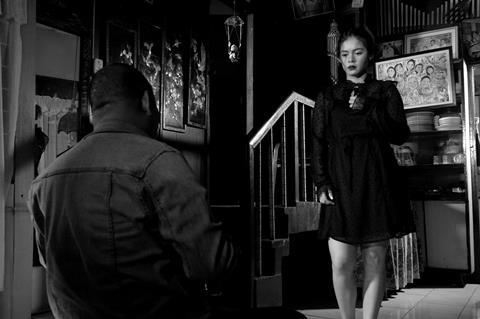 Paris-based Indie Sales has acquired international sales rights to Filipino filmmaker Lav Diaz's black and white sci-fi work The Halt, ahead of its premiere in Directors' Fortnight.
The drama is set in Filipino capital Manila in 2034, which has been enveloped in darkness ever since massive volcanic eruptions in the Celebes Sea three years prior deprived Southeast Asia of sunlight.
It is a world in which "madmen control countries, communities, enclaves and new bubble cities. Cataclysmic epidemics ravage the continent. Millions have died and millions more have left", according to the official short synopsis for the film.
Indie Sales CEO Nicolas Eschbach negotiated the acquisition with French Distributor ARP Selection, which held world rights for the production and will release the film in France, in its third collaboration with Diaz.
"In this very politically charged film, Lav Diaz fights back against all kind of fanaticism. But he fights in his own way: with beautifully composed black and white shots, a quiet sense of foreboding, and a thin ray of hope," said ARP's co-founding chief Michèle Halberstadt.
"The Halt is our first ever Asian title," adds Eschbach, "Lav delivers a very accurate comment on the political situation of his country."
Diaz was last in Cannes with Norte, The End Of History which premiered in Un Certain Regard in 2013.
In the meantime, he won Locarno's Golden Leopard in 2014 for From What Is Before; premiered his A Lullaby To The Sorrowful Mystery in competition at the Berlinale in 2016, and won the Venice's Golden Bear with The Woman Who Left in 2016.