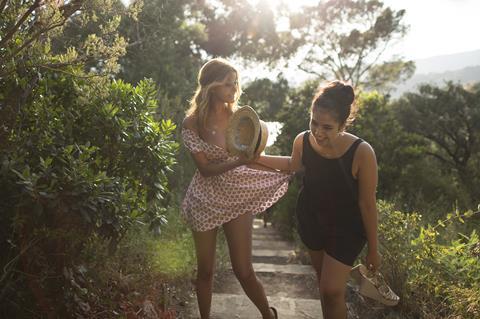 Cannes Directors' Fortnight has unveiled the line-up for its 51st edition, running May 15-25, overseen for the first time by artistic director Paolo Moretti.
Scroll down for full line-up
For his debut edition, Moretti and his programming team have pulled together an auteur-driven selection, mixing established and emerging filmmakers, genre fare and a dash of star power.
"Directors' Fortnight was born out of a collective and this collective spirit is still alive. The support of the team that I found in place has really touched me," said Moretti, as he kicked off his first announcement conference.
The main 24-title, feature-length selection includes prolific Japanese director Takashi Miike's First Love and French auteur Bertrand Bonello's Haiti-set fantasy tale Zombi Child.
Also from France, Rebecca Zlotowski will unveil the coming-of-age tale An Easy Girl, her fourth feature following Planetarium, Grand Central and Dear Prudence. It stars celebrity escort girl-turned model and lingerie designer Zahia Dehar, opposite newcomer Mina Farid, as a woman who takes a younger cousin under her wing during a Mediterranean summer holiday.
Multi-award-winning Filipino filmmaker Lav Diav, last in Cannes in 2013 with Norte, The End Of History in Un Certain Regard, makes his Directors' Fortnight debut with The Halt.
Moretti highlighted the fact that the selection committee had taken care to make space emerging talents and directors who had never screened at Cannes before, noting there were a number of first and second films in the selection.
"There are 16 films by directors who have never played at Cannes before," he said.
Afghan director Shahrbanoo Sadat, who premiered her debut feature Wolf And Sheep in the parallel section in 2016, returns with The Orphanage, set against the backdrop of late 1980s Kabul, when the number of orphans rose steeply due to the Soviet-Afghan war.
"It's musical film playing with the influence of Bollywood on Afghan culture. It's very funny and one of the finds of this selection, said Moretti.
UK-Iranian director Babak Anvari's psychological horror picture Wounds has also been selected. Starring Armie Hammer, opposite Dakota Johnson, as a New Orleans bartender who falls prey to sinister forces after he picks up a phone left behind at his bar. It originally premiered in Sundance's Midnight section, with Netflix acquiring international rights. There were no Netflix films in the festival's Official Selection after Cannes chiefs and the streaming giant failed to reach an agreement.
Luca Guadagnino will show his medium-length film The Staggering Girl in a special screening. Moretti said it was inspired by the work of Italian designer Pierpaolo Piccoli and had Jean Cocteau undertones.
He added that its high-profile ensemble cast featuring Juianne Moore, Mia Goth, KiKi Layne, Kyle MacLachlan and Alba Rohrwacher was expected at the screening, which will be Guadagnino's first ever Cannes premiere.
That section also features The Marvelous Misadventures Of The Stone Lady by French-Portuguese filmmaker Gabriel Abrantes, who won the Grand Prix at Critics' Week with Diamantino last year alongside co-director Daniel Schmidt.
First Features
There are four debut films in the features line-up which will be eligible for the Cannes Camera d'Or. Two of the debut works hail from South America: Peruvian director Melina Léon's 1980s, Lima-set child-trafficking drama Song Without A Name, and Brazilian filmmaker Alice Furtado's Sick Sick Sick, about a young girl who turns to voodoo to bring back a classmate back from the dead.
The other two first features are French director Erwan Le Duc's Vosges-set Perdrix and Swiss filmmaker Blaise Harrison's Les Particules. The latter revolves around a group of teenagers who undergo a life-changing experience when they visit the CERN particle accelerator outside Geneva.
Produced by Domino Films, the production company behind award-winning drama Bloody Milk, Perdrix stars rising French actor Swann Arlaud as a man caught up in the tumult of the arrival of an elusive woman in his life.
As previously announced, French filmmaker Quentin Dupieux's black comedy Deerskin (Le Daim), starring Jean Dujardin, is the opening film.
Also announced last month, French directors' guild the Société des Réalisateurs de Film (SRF), which runs Directors' Fortnight, will honour US genre maestro John Carpenter with its Carrosse d'Or award on the opening night.
More details were given about the events celebrating his work. They will kick off with a screening of his 1982 feature The Thing and also include an onstage conversation moderated by French directors Katell Quillévéré and Yann Gonzalez.
The closing film will be Benoît Forgeard quirky tale Yves about a rap artist who is gets into a relationship with his intelligent fridge-freezer with surprising consequences for his music. There is a strong French presence in this year's line-up, both in the French productions and co-productions. Other French films include Nicolas Parisier's comedy-drama Alice And The Mayor, starring Fabrice Luchini as a mayor in the midst of an existential crisis who hires a young philosopher, played by Anaïs Demoustier, for inspiration.
US presence
There is also strong US presence.
Cult US director Robert Rodriguez will give a masterclass followed by a special screening of his new film Red 11. The micro-budget thriller is inspired by the true story of how he sold his body to medical research to finance his breakthrough work El Mariachi. It will be the film's international premiere following its first outing at SXSW earlier this year.
Robert Eggers will premiere his highly-anticipated The Lighthouse, a fantasy horror story set in the world of sea-faring myths and starring Robert Pattinson and Willem Dafoe.
It's a hypnotic and hallucinatory tale about two lighthouse keepers based on an island off the coast of New England. Pattinson and Dafoe form an impressive on-screen duo," Moretti said.
As per Directors' Fortnight tradition, the parallel section has delved into the Sundance Film Festival 2019 line-up.
It has selected Kirill Mikhanovsky's quirky Milwaukee-set comedy-drama Give Me Liberty, about a Russian immigrant who risks his job as a medical transportation driver to ferry his grandfather and friends to a funeral.
It premiered in Sundance's NEXT section in January. A re-edited version will show at Directors' Fortnight.
SHORTS
A total of 10 shorts will also play in the selection. They include The Marvelous Misadventures Of The Stone Lady by French-Portuguese filmmaker Gabriel Abrantes, who won the Grand Prix at Critics' Week with Diamantino last year alongside co-director Daniel Schmidt.
Moretti said Directors' Fortnight wanted to raise the profile of the shorts selection and would play them earlier on in the festival rather than towards the end.
Full line-up
FEATURE
Alice And The Mayor (Fr) dir Nicolas Parisier
And Then We Danced (Se, Ge) dir. Levan Akin
The Halt (Ang Hupa) (Ph, Cn) dir. Lav Diaz
Song Without A Name (Canción sin nombre) (Pe, Sw) dir. Melina León **
Deerskin (Le Daim) (Fr) dir. Quentin Dupieux (opening film)
Give Me Liberty (US) dir. Kirill Mikhanovsky
First Love (Hatsukoi) (Jp, Uk), dir. Takashi Miike
To Live to Sing (Huo zhe chang zhe) dir. Johnny Ma (Cn, Fr)
Dogs Don't Wear Pants (Koirat eivät käytä housuja) (Fi, Lt, Lv) dir. Jukka-Pekka Valkeapää
The Lighthouse (Ca, US) dir. Robert Eggers
Lillian (At) dir. Andreas Horvath
Ghost Tropic (Be) dir. Bas Devos
Oleg (Lt, Lv, Be, Fr) dir. Juris Kursietis
Blow It To Bits (Fr) dir. Lech Kowalski
The Orphanage (Parwareshgah) (Dk , Af, Fr) dir. Shahrbanoo Sadat
Les Particules (Sw, Fr) dir. Blaise Harrison **
Perdrix (provisional title) (Fr) dir. Erwan Le Duc **
For the Money (Por el dinero) (Ar) dir. Alejo Moguillansky
Sick Sick Sick (Br, Nl, Fr) dir. Alice Furtado **
Tlamess (Tn, Fr) dir. Ala Eddine Slim
An Easy Girl (Une Fille Facile) (Fr) dir. Rebecca Zlotowski
Wounds (US) dir. Babak Anvari
Yves (Fr) dir. Benoît Forgeard (France) closing film
Zombi Child (Fr) dir. Bertrand Bonello
** First features
SPECIAL SCREENING
Masterclass by Robert Rodriguez followed by international premiere of Red 11 (US)
The Staggering Girl (It) Luca Guadagnino
SHORT AND MEDIUM-LENGTH FILMS
Two Sisters Who Are Not Sisters (UK, De) dir. Beatrice Gibson
The Marvelous Misadventures of the Stone Lady (Fr, Pt) dir. Gabriel Abrantes
Grand Bouquet (Jp) dir. Nao Yoshigai
Stay Awake, Be Ready (HãY TỉNH THứC Và SẵN SàNG) (Vn, Kr, US) dir. An Pham Thien
Je te tiens (Sp) dir. Sergio Caballero
Movements (Kr) dir. Dahee Jeong
Olla (Fr, UK) dir. Ariane Labed
Piece of Meat (Sg) dir. Jerrold Chong and Huang Junxiang
Ghost Pleasure (Plaisir fantôme) (Fr) dir. Morgan Simon
That Which Is to Come Is Just a Promise (It, Nl, NZ) dir. Flatform