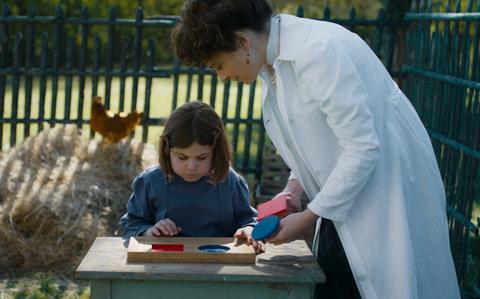 Indie Sales has sold Léa Todorov's debut feature Maria Montessori, a fictionalized, female-driven story about the titular physician and teacher, to key territories after teasing a promo reel for buyers at EFM.
The Paris-based sales powerhouse has pre-sold the film to Neue Vision in Germany, Karma in Spain, New Cinema in Israel, Nos Lusomundo in Portugal, Filmladen in Austria, Cinemart in Czech Republic and Slovakia, and Rocket Releasing for CIS. A Swiss deal is in negotiations.
The France-Italy co-production set in the early 20th century is freely inspired by the life of revolutionary doctor turned education pioneer Maria Montessori, well-known for her methods still used today in schools all over the world.
The film, titled La Nouvelle Femme in French or "the new woman", intertwines Montessori's real-life story with a fictional French cabaret star hiding her child diagnosed with a disability to protect her career. Italian actress Jasmine Trinca plays Montessori opposite Leïla Bekhti in the role of famous Parisian star Lili d'Alengy. Unable to care for her daughter, d'Alengy flees to Rome where she seeks help from Montessori, who is also hiding her own secret child born out of wedlock and two women end up helping each other earn their place in a man's world and making history in the process.
"Montessori is a well-known name but a less well-known story. We're proud to bring it to a wider audience," said Indie Sales' Constance Poubelle. Montessori's child-centric educational system that has become the name of schools across the globe encourages students to learn at their own pace in classrooms with children of varying ages and teachers who encourage independence.
Poubelle added: "We're delighted to see how this female empowerment story resonates with buyers all around the world. This encouraging launch at EFM foreshadows a bright career for the film."
Maria Montessori is produced by Grégoire Debailly for France's Geko in co-production with Italy's Tempesta Film, and will be released in France by Ad Vitam.
Indie Sales was at EFM with several high-profile titles including festival selections Milad Alami's Opponent and Zeno Graton's The Lost Boys. Opponent has been a strong seller whose trailer led to several pre-market pre-sales, with CGI animated sequel Richard The Stork 2 also selling across the globe.