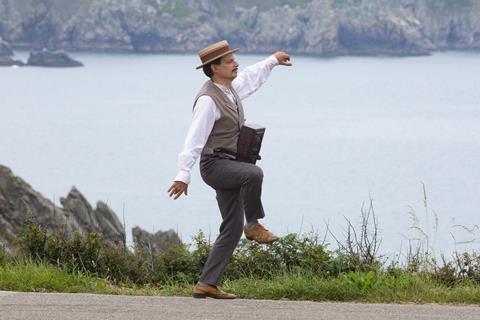 Paris-based Indie Sales has boarded Jean-Pierre Améris' Take A Chance On Me and Pierre Jolivet's Green Tide, expanding the company's star-powered French slate.
Indie Sales' French language line-up also includes Noémie Lvovsky's The Great Magic, Mathias Gokalp's The Assembly Line, Emad Aleebrahim Dehkordi's A Tale of Shemroon and Marc Fitoussi's Two Tickets to Greece.
Take A Chance On Me stars popular French singer turned actress Louane Emera, whose credits include The Belier Family, who plays a young woman juggling between odd jobs to support her agoraphobic father. After a series of unfortunate events, she is fired from her job and sentenced by a judge. Michel Blanc plays the judge who attempts to help the young woman get back on track and the two strike up an unlikely friendship. Now in post-production, the film will be released in France via ARP in October 2023.
Green Tide is inspired by the true story of an environmental disaster in Brittany. Celine Sallette stars as a reporter investigating the recent deaths of locals on Breton beaches, possibly caused by algae. As evidence is being covered up and threats to her research mount up, she realises some politicians with close ties to prominent local corporations are working to stop her from uncovering the shocking truth. Prolific filmmaker Jolivet is behind several high-profile local titles including most recently 2018's Victor & Celia, 2016's The Brigade and 2014's The Night Watchman. The film will be released in France in summer 2023 by Haut et Court.
Indie Sales' slate is headlined by Lvovsky's comedy-drama The Great Magic. Lvovsky co-wrote, directs and stars in the film alongside array of A-list local talent including Denis Podalydès, J Judith Chemla, Sergi Lopez, Damien Bonnard, Rebecca Marder and François Morel. The 1920s-based film follows a couple whose relationship is put to the test when the wife vanishes during a magician's act. It is based on the play by the same name by Eduardo De Filippo.
The film premiered at the Les Arcs Film Festival in December and Indie Sales is screening the film for buyers at the Unifrance Rendez-Vous before its February 8 release in France via Ad Vitam.
The Assembly Line is an adaptation of Robert Linhart's eponymous novel based on a true story. Set in the aftermath of May 1968, the film stars Swann Arlaud as an academic and far-left activist who leaves university to join a factory and spread his revolutionary ideas. Director Mathias Gokalp's The Ordinary People premiered at Cannes' Critics Week in 2009. The cast also include Mélanie Thierry, Olivier Gourmet and The Great Magic's Denis Podalydès. The film will be released in France on April 12 via Le Pacte.
Indie Sales is also screening Emad Aleebrahim Dehkordi's A Tale Of Shemroon.. It debuted in San Sebastian's New Directors competition and won the Golden Star for best film win at the Marrakech International Film Festival in late 2022. Dehkordi's directorial debut follows the parallel destinies of two brothers as one of them gets caught up in a dangerous drug trade, supplying illegal thrills to Tehran's wealthy and hard-partying youths. The film will be released by Jour2Fête in February in France.
Rounding out the sales slate is female-buddy comedy Marc Fitoussi's Two Tickets To Greece, starring Laure Calamy, Kristin Scott Thomas and Olivia Côte. The film will hit theatres on the opening day of the Paris Rendez-Vous with an ambitious release via Memento Distribution. Indie Sales will also be sharing a promoreel for CGI-animation sequel Richard the Stork 2 as the film enters final stages of post-production.
Founded by Nicolas Eshbach and Eric Neve, Indie Sales has become a force on the international sales scene with festival-friendly and audience attracting fare. Indie Sales' acquisitions and sales manager Alfred Deragne said: "Alongside our commitment to supporting young up and coming talent, we are excited to introduce strong comedies and impactful dramas from accomplished filmmakers that we feel all share a definitive theatrical appeal."