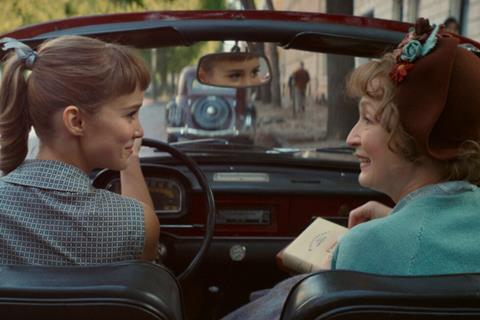 "It wasn't supposed to be this big," says producer Guillaume Benski of the international box office success of Anthony Fabian's Mrs Harris Goes To Paris, starring Lesley Manville and Isabelle Huppert.
The English-language film, produced by Benski's Paris and London-based Superbe Films, with Xavier Marchand's MoonRiver, has grossed approximately $30m worldwide since its release in July 2022. It opened first in North America via Focus Features, grossing $10.3m. Universal Pictures then opened Mrs Harris around the world where it has performed particularly well in the UK/Ireland ($5m), Australia ($5m), Germany ($1.4m) and New Zealand ($1.3m).
Mrs Harris is based on a novella by Paul Gallico about a widowed cleaning lady in 1950s London who works, starves and gambles to raise the money to travel to the House of Dior fashion house in Paris to buy the dress of her dreams. The cast also includes Jason Isaacs and Lambert Wilson.
The film has been longlisted in three Bafta categories (outstanding British film, best actress and best costume design) and Manville is nominated for a Golden Globe award for best actress.
It is officially a UK-Hungary co-production, produced out of Superbe's London office, with Xavier Marchand of the UK's MoonRiver. It shot in Budapest in late summer 2020, doubling for 1950s Paris.
The film was financed by eOne which put in an MG for the world, with gap financing from the Hungarian National Film Institute, stepping in when the budget shot up due to the extra costs created by shooting under Covid protocols. The balance for the $13m project came from tax rebates in Hungary and UK.
Aside from award-winning heads of department such as UK costume designer Jenny Beavan and Australian-Brazilian-Italian production designer Luciana Arrighi, the film shot with a mostly Hungarian crew.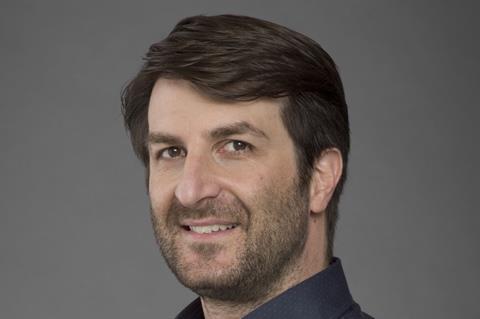 Making 'Mrs Harris'
Mrs Harris began as an independent project. "We had the rights and took the risk," says Benski.
"When Focus Features came on board at EFM in 2021, it became much bigger and went into their very successful distribution machine," he adds, emphasising Universal's "great marketing and the fact it came out everywhere almost at the same time."
UK-based Fabian, whose feature credits included 2008's Skin and 2013's Louder Than Bombs, had contacted Benski nearly a decade earlier about producing a film based on Gallico's novella but Benski didn't bite. Years later, after reworking the script, Fabian approached Benski again over drinks at the 2018 Cannes Film Festival and the project was born.
Development slate
Mrs Harris Goes to Paris is one of four books written by Paul Gallico. Superbe and MoonRiver have snagged adaptation rights to Mrs Harris Goes To New York, Mrs Harris Goes to Moscow and Mrs Harris MP. The projects are in the early stages of development and may be adapted as either a series of feature films or a TV series. Benski hopes Manville will star although she is not yet formally attached.
Superbe was founded in Paris in 2010 before expanding to the UK in 2021 with a London office, where head of development Alice Coulthard, who has previously worked with Alfonso Cuaron, is based. The company has a development and production slate and handles structured finance and physical production.
Superbe is developing several other high-profile projects. Next up is the live-action coming-of-age story 100 Days from Ice Age, Rio and Robots director Carlos Saldanha, written by Elena Soare, whose credits include City Of Men, and produced alongside Brazilian production outfit VentreStudio and Disney. Based on the autobiographical book One Hundred Days Between Sea and Sky by Amyr Klink, the film follows a young Brazilian adventurer searching for his path in life as he crosses the Atlantic Ocean alone in a tiny rowboat. Benski describes the film as "Life Of Pi meets 127 Hours." It is set to shoot in May and June in Malta and Brazil. Benski, who is of Brazilian descent, is producing alongside VentreStudio's Paula Cosenza.
"When Ventre was created, we started discussing some projects and now we are working together," Benksi says of his regular partners. "We have the same taste for projects."
Superbe is also in pre-production on acclaimed Israeli filmmaker Amos Gitai's next film AMIA, set to shoot this spring and summer in Budapest and Uruguay. The project is based on the true story of a 1994 bomb explosion outside the AMIA (Israel Argentina Mutual Association) building in which 85 people were killed. The story, set in 2007, follows a prosecutor who sets out to uncover the truth behind the attack. Gitai will direct the film he co-wrote with Fauda writer Sari Turgeman, Marie-José Sanselme and Ronen Bergman. Benski is producing alongside João Quieroz of VentreStudio.
Another true story in the works is Michael Hoffman's The Conductor which Benski hopes will shoot this autumn. The Conductor follows conductor Karl Eliasberg who is called on to conduct the complex Seventh Symphony by his idol Shostakovich during the siege of Leningrad. Benski is co-producing with Stephen Raphael who co-wrote the script with Frederic Raphael.
Superbe is also developing a Holocaust drama called Hannah about a young Hungarian woman who is part of the British Army's Jewish Commando and who writes poetry in prison when she is captured and tortured.
Independent focus
Budgets for Superbe's projects range from $5m-$25m. "We're not making auteur films for $2m, but our projects remain independent," Benski points out.
Superbe is also developing several prestige drama series including Fukushima from showrunner Donna Sharpe, about a team of scientists who risk their lives to contain a nuclear disaster, and Valtesse, the true story of the life of 19th-century Parisian courtesan Valtesse de la Bigne. Benski describes de la Bigne as "the original influencer". The co-production with Dana Hoegh of Shoni Productions is written by Olivier Gorce and Sabrina Compeyron.
"We are focused on both local and organically international projects that reach audiences around the world," says Benski. "We don't see our playground limited by borders, nationality or language. We look for stories that touch people deeply. We want to make them cry, laugh, think, be scared and dream."
Since the Mrs Harris shoot, Benski has relocated to Budapest with his family to run the local Superbe office and plans to shoot several upcoming projects in the city.
"Hungary is very film friendly from efficient crews to plenty of locations, studios, very reasonable production costs and a high tax rebate," Benski explains. "The Budapest office services productions, with all of Superbe's creative development handled in Paris and London."