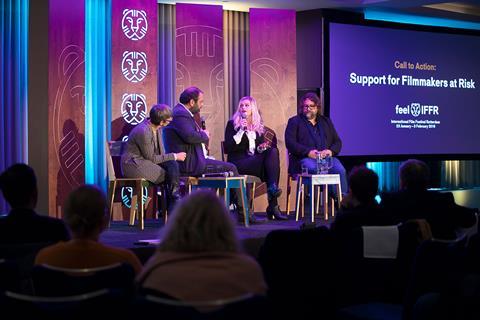 Russian auteur Kirill Serebrennikov has been on trial in Russia, accused of embezzling. Ukrainian director Oleg Sentsov is still in prison (where he is said recently to have completed a novel).
Director Alankrita Shrivastova was attacked by censors in India because her film, Lipstick Under My Burkha, initially banned in the country, was considered too "lady oriented."
Wanuri Kahiu's Rafiki, the hit Kenyan drama screening in IFFR's Voices, fell foul of the Penal Code of Kenya because of its lesbian themes. "Any person who has carnal knowledge of any person against the order of nature is guilty of a felony and is liable to imprisonment for 14 years," reads the relevant passage of the Code.
The set of Indian epic Padmaavat was vandalised and faced violent protests on religious grounds for featuring a romance between a Hindu and a Muslim character. 24 minutes were cut from the Malaysian release of Bohemian Rhapsody. Christopher Robin was banned in China because of an alleged resemblance between Winnie the Pooh and the Chinese president.
These are just some of the many examples of films and filmmakers threatened, censored or blacklisted over the last two years.
At IFFR's weekend event, Call to Action: Support for Filmmakers at Risk, panelists brainstormed practical measures the film community can take to protect those faced with intimidation, abuse and imprisonment simply because of their movies.
Srirak Plipat, of independent international organisation Freemuse which defends freedom of artistic expression, had alarming statistics about the extent of the problems faced by filmmakers. In 2017, 48 artists were imprisoned. Filmmakers were high on the list, second only to musicians. LGBT filmmakers and artists were at particular risk of having their artistic freedom violated. The top 6 countries for banning films were India, Turkey, Pakistan, Lebanon, France and China. In all, Freemuse calculated, 259 films and filmmakers ere affected by "violations of artistic freedom" in 2017.
Chairing the IFFR session, Syrian documentary producer and director Orwa Nyrabia (now artistic director IDFA) shared the darkly comic story of his own arrest in Damascus in 2012.
"One day I was being interrogated about 25 to 30 metres under the ground about my film work," Nyrabia recalled. One of his interrogators asked him "where the hell do you know Robert De Niro from?" Nyrabia replied that he didn't know De Niro but he was eventually released.
"It was very strange in that particularly strange moment of my life to hear the question where do you know De Niro from but when I was in need of De Niro, De Niro was there."
The US actor was one of many figures in the film community who campaigned for Nyrabia's release - and the campaign worked.
Practical measures
When Nyrabia subsequently "went round the world," calling for similar interventions to the one made on his behalf, he encountered widespread cynicism. However, at the IFFR session, speakers came up with a range of legal and lobbying measures to safeguard artistic freedom and the human rights of filmmakers at risk.
One panelist, Rafiki producer Steven Markovitz (whose latest film Akasha shot in a rebel held area in war-torn Sudan), called for strong practical measures to be put in place as soon as possible. He talked of the need for "a centralised system where there's a number you call and every festival advertises that number. There is a real awareness of it," Markovitz said. As he revealed, the actors from the film are now living in exile in Uganda but haven't been able to secure refugee papers which will allow them to travel to festivals abroad.
At another IFFR session, a young Saudi producer revealed the daunting censorship challenges facing filmmakers in Saudi Arabia where the ban on filmgoing was lifted in 2018 after 35 years. The producer, who declined to give his name, talked of submitting a script to the censorship office for approval. "It was more ridiculous than I thought," he revealed. "You can't have people smoking because it's bad for your health and we (in Saudi Arabia) want to project a healthy image of the place. Another (rule) was you can't show any implied pre-marital relationships… there's a big thing with Saudi women where you can't portray Saudi women in any negative way."