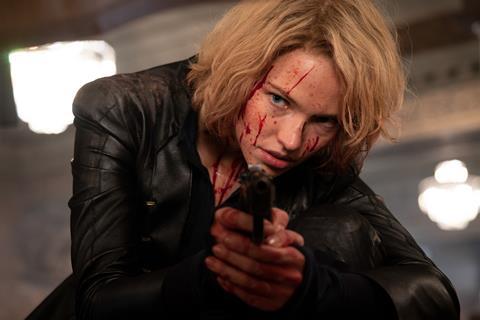 French cinema generated 40.5m admissions internationally for overall box office receipts of $272.5m (€244.4m), according to provisional figures released by French cinema export agency Unifrance on Thursday.
The figure of 40.5m is in line with last year's provisional figure of 40m but down 7% on the definitive 2018 figure of 43.7m admissions, which is traditionally published in October. The 2018 performance in turn represented a 50% drop on 2017 when international admissions stood at 82.6m.
The final outcome for 2019 remains to be seen but it is expected to hold steady with 2018 once final figures are collated.
The decline of the last two years is due mainly to the absence of an English-language hit by French director and producer Luc Besson or a successful family-oriented animation, which have helped to turbo charge international results in previous years.
Besson still topped the 2019 international box office chart for French cinema with Anna which drew 4.4m admissions outside of France. This result paled, however, in comparison to the box office performance of his previous productions Lucy, which drew 56m spectators internationally in 2014, and even the much-maligned Valerian And The City Of A Thousand Planets., which sold 30.5m tickets outside of France in 2017.
"2019 was a year with a Luc Besson movie but without the 'Besson effect'," wrote Unifrance in its report.
Other productions making it into the top 10 included family-oriented drama Mia And The White Lion, with 4.3m entries, comedy Serial Bad Weddings 2 (3.3m), and feature animations Asterix – The Secret Of The Magic Potion (3.1m) and Miniscule – Mandibles From Far Away (1.1m).
Further French titles achieving success internationally included children's animation Terra Willy, comedy drama Sink Or Swim, historical drama An Officer And A Spy, prison drama The Mustang and publishing world comedy Non-Fiction.
Unifrance unveiled the annual report in a presentation at the Ministry Of Culture on Thursday as part of its Rendez-vous with French Cinema in Paris event, running January 16-20.
Breaking the admissions figures down, the report said majority French productions had drawn 34.4m spectators, representing a 32.3% increase on 2018 when they garnered around 26m.
Admissions for French-language films dipped by 2.4%, however, to 24m. It was the first time the figure has fallen below 25m in a decade. The overall number of French films on release worldwide, however, rose 8.42% to 721 titles.
According to the report, Italy was the biggest market for French cinema for a second year running, generating 4.3m admissions for a gross of $28.3m, followed by Germany with 3.9m total admissions and Spain with 3.3m. Not surprisingly, western Europe remained the biggest market for French cinema, followed by Central and Eastern Europe and then Latin America.
There was disappointment in the US and English-speaking Canada, however, where admissions for French cinema fell by 18% to 3.2m. Admissions grew by 32.4% in French-speaking Canada, although overall admissions remained under one million.
Another difficult territory was China even though the overall market is dynamic, Unifrance said. It noted that although a record 11 French-language films were released in the territory, they only sold 1.1m tickets between them, for the poorest performance ever registered in the country.
In a new development for the decade-old annual study, Unifrance also attempted to assess the performance of French cinema on SVOD platforms worldwide.
Due to the lack of transparency around viewing figures in the SVoD sector, the study of the streaming market focused solely on the presence of French titles on 56 platforms in 39 territories, not including France.
This relatively rudimentary but enlightening research revealed that French films account for 2.4% of the combined catalogues of the 56 platforms it examined. French cinema was the fourth most represented globally after that of the US, accounting for 46.2% of the offering; India, with an 8.8% share and the UK, with 4.6%.
The study also examined the presence of French cinema at ten key film festivals around the world, comprising Bafici, Berlinale, Busan, Cannes, Locarno, Rotterdam, San Sebastian, Sundance, Toronto and Venice.
It concluded that one in five, or 19%, of the films invited to these festivals were either majority or minority French productions. In terms of the main competitions, 54 out of 199 competition titles were produced with French support.
Definitive data for France's international box office will be released in the autumn of 2020.
Commenting on the prospects for 2020, Unifrance cited a raft of new French titles it expected to do well internationally in the coming months, including Benedetta, Bergman Island, Cuban Network, De Gaulle, Eiffel, How To Be A Good Wife, The Lost Prince and Little Vampire.
The 2020 figures will also include data for the ongoing international careers of An Officer And A Spy, La Belle Epoque, Les Misérables, Portrait Of A Lady On Fire, The Specials, The Translators and The Truth.