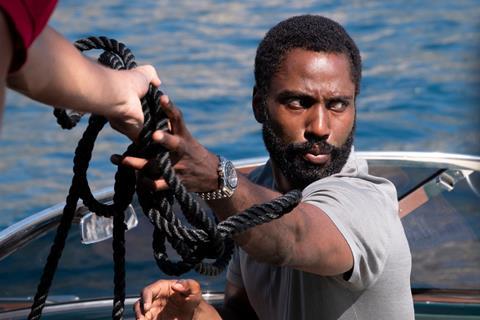 Tenet drops 35% in international markets
Christopher Nolan's Tenet grossed an estimated $7.7m in its seventh session internationally, down from $11.8m for the previous weekend, a decline of 35%. That compares with a decline of 29% the previous weekend.
Despite the slightly greater rate of box office decay, Tenet achieved some strong holds in individual territories, notably Japan (-19%), Australia (-22%), Germany (-31%) and Mexico (-34%).
International cumulative total for the Warner Bros release is now an estimated $275m, and the global tally (including North America) is $325m. IMAX screens account for $30.1m, or 11% of the total.
Just like the previous weekend, top international performer was Japan, with an estimated $2.0m in its fourth session, only marginally behind North America's $2.1m weekend tally.
In cumulative totals, the film's international league table remains unchanged for the top three territories, with China ($66.2m) leading ahead of UK and Ireland ($21.8m) and France ($21.4m), although France is steadily closing the gap with UK. Japan ($19.2m) has overtaken Germany ($17.2m) for fourth place, with South Korea ($14.6m) remaining in sixth.
Tenet opened in three relatively small Latin American markets at the weekend – Bolivia, Costa Rica and Nicaragua – topping the box office in all of them. There are 21 international markets still to release, including Brazil, Argentina, India, Indonesia and the Philippines. El Salvador opens this week.
Nolan's previous two features, 2014's Interstellar and 2017's Dunkirk, grossed $696m and $527m respectively at the global box office – targets that are unrealistic for Tenet given the ongoing impact of the Covid-19 pandemic.
Greenland tops new markets Italy and New Zealand
Gerard Butler action thriller Greenland opened in Italy and New Zealand at the weekend, topping the chart in both territories. The estimated international weekend total is $2.84M, which compares with $4.5m for the previous session, which had been boosted by a strong new opening in South Korea concurrent with the local Chuseok holiday. International total for Greenland now stands at an estimated $27.9m.
In Italy, Greenland began with $803,000 from 378 cinemas for local distributor Lucky Red, achieving a 30% market share. In New Zealand, the film debuted with an estimated $227,000 including previews, from 89 locations.
With Italy and New Zealand's openings, advises backer STX, Greenland has now debuted at number one in 24 markets since it began its rollout. This coming weekend, the film opens in Czech Republic and Romania. Ric Roman Waugh (Butler's Angel Has Fallen) directs the story of a family fighting for survival as a comet races to Earth.
After We Collided opens top in Netherlands
Voltage Pictures' After We Collided saw takings decline by 10% from the previous session, with international weekend box office estimated at just over $2m.
Top market at the weekend was Germany, with $345,000 for Constantin. Right behind is Netherlands – debuting there at the top of the chart – with $333,000 for Belga. However, significant previews boost the Netherlands debut number to $820,000, making it the top market at the weekend if those are included.
UK and Ireland is in third place, with $260,000 for Shear Entertainment. In South Korea, which was a new opening via distributor Pancinema, the film began with $111,000 for the weekend period and $182,000 for the five days beginning last Wednesday.
In After We Collided's league table of cumulative totals, Germany ($8.45m) remains top, ahead of Italy ($4.91m) and UK and Ireland ($4.67m). Russia/CIS ($3.85m) has now overtaken Spain ($3.76m) for fourth place.
From Cruel Intentions director Roger Kumble, After We Collided is the sequel to $70m global hit After, and is the second film to be adapted from the series of "new adult" romance novels by Anna Todd, starring Josephine Langford and Hero Fiennes Tiffin. The film opens in Belgium this weekend.
Jim Button sequel stays number one in Germany
Warner Bros has retained its hold over the top of the German box office, with local hit Jim Button And The Wild 13 retaining the top spot and Tenet in second place. The sequel to 2018's Jim Button And Luke The Engine Driver grossed $1.15m at the weekend, a decline of 13%. Total after two weekends of play is $3.19m.
Jim Button And The Wild 13 and its predecessor are directed by Dennis Gansel and based on Michael Ende's pair of children's classic novels, both published in the early 1960s. Jim Button And Luke The Engine Driver grossed $13.3m in Germany in 2018 – the top local title and the 15th highest-grossing film overall that year.
Ende's stories are set on the fictional island of Morrowland, and concern steam locomotive driver Luke and his young accomplice Jim Button.
Landing just behind second-placed Tenet in the German box office chart (but beating it in terms of admissions numbers) was Studiocanal's local comedy Es is tzu Deinem Besten, which is a remake of 2017 Spanish comedy Es por tu bien. The film – which is directed by Marc Rothemud (Sophie Scholl: The Final Days, 2005) – debuted with $690,000 from 506 cinemas, and 67,400 admissions.
The ABCs Of Love tops France box office
Local comedy The ABCs Of Love has topped France's box office in its first week of release, knocking aside the previous week's chart-topper Mon Cousin, which falls to fourth place. The UGC Distribution new release achieved 95,000 admissions for its opening period (October 7-11). Rising star Vincent Dedienne plays a thirtysomething babysitter, who unwittingly gets entangled in the parent-teacher association of the school that his nine-year-old charge attends, finding love along the way. In France, the film is called Parents D'Éléves.
Diaphana Distribution's My Donkey, My Lover & I (aka Antoinette dans les Cévennes) holds steady in second place in its fourth week of release, and chart veteran Tenet holds in third place. With Pathé comedy Mon Cousin just below Tenet, SND crime drama Appearances rounds out the top five.
Three other new entries appear in the France top 10: Robert De Niro family comedy The War With Grandpa (known locally as Mon Grand-Pere et Moi) enters in sixth place with 44,000 admissions; arthouse horror title Relic, starring Emily Mortimer, Robyn Nevin and Bella Heathcote, lands in eighth with 33,000; and French-flavoured Japanese animation Lupin III: The First nabs 10th place with 23,300.