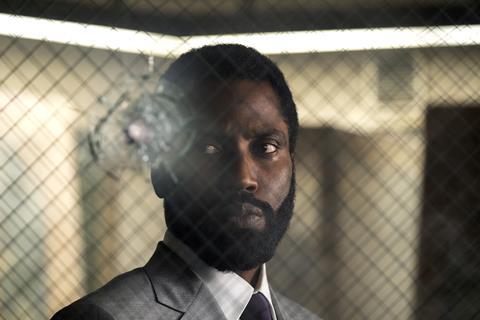 Tenet posts strong holds in international markets
Christopher Nolan's Tenet grossed an estimated $11.5m in its sixth session internationally, down from $16.2m for the previous weekend - a decline of 29%.
The robust performance was achieved thanks to strong holds, rather than the arrival of the spy thriller in fresh markets. The estimated international total for the Warner Bros release now stands at $262m, and the global total – including North America – is an estimated $307m, with $35m coming from IMAX screens.
Top international performer was Japan, with an estimated $2.5m in its third session, only marginally behind North America's $2.7m weekend tally.
A dismally rainy weekend in the UK and Ireland saw Tenet achieve an exceptionally strong hold in the territory, down just 4%. Declines were also notably slim in Australia (-8%), South Korea (-8%), Japan (-18%), Germany (-24%), France (-25%) and Mexico (-26%).
In cumulative totals, the film's international league table remains unchanged at the top, with China ($65.5m) leading ahead of UK ($20.9m), France ($20m) and Germany ($16.1m). Japan ($15.9m) has now overtaken South Korea ($14.2m) for fifth place in the territory line-up.
A few regional quirks have occurred. With $1.2m, Tenet is now the all-time highest grossing foreign film in Estonia where the film was partially shot. Tenet has also become the highest grossing Christopher Nolan film ever in Ukraine, Egypt, Qatar, Saudi Arabia and Vietnam – a feat it is in no danger of achieving in major markets such as the UK.
This week, Tenet releases in Bolivia, Costa Rica and Nicaragua. The film is chasing global totals for Interstellar and Dunkirk of $696m and $527m respectively.
Greenland boosted by South Korea opening
New openings in South Korea, Croatia and Serbia/Montenegro helped Gerard Butler action thriller Greenland achieve a 22% rise overall in international markets, with an estimated weekend tally of $4.5m. International total so far is $23.8m.
In South Korea, Greenland's release via Joy N Contents Group coincided with the Korean Chuseok holiday (Harvest Festival). Facing competition from popular local releases The Golden Holiday and Pawn, Greenland opened in third place, with a healthy $1.84m from 779 cinemas – 102% up on the debut of Butler's Angel Has Fallen.
Across the Middle East region, Greenland added an estimated $1.06m in week two (-20%) for a total of $3.07M. The film held at number one in its second weekend across the region, ahead of new release War With Grandpa in second place and Mulan in third.
The STX-backed film likewise retained the top spot in Saudi Arabia (with $679,000, down 17%) and in Spain (with $500,000, down 37%).
Ric Roman Waugh (Angel Has Fallen) directs the story of a family fighting for survival as a comet races to Earth. This coming weekend, the film arrives in New Zealand and Italy.
After We Collided nudges $40m total
Voltage Pictures' After We Collided saw takings decline by 32% from the previous session, with international weekend box office estimated at $2.23m. Estimated total is $39.7m.
Top market at the weekend was UK and Ireland with $530,000 – a decline of just 18% from the previous session. Next comes Germany with $482,000, down 35%. Russia/CIS is in third place with $192,000, a fall of 56%.
While territories such as Italy and Spain started strong for the film, having established healthy audiences in 2019 for the franchise launch title After, the numbers have now tailed off in those markets. In contrast, the UK – where After bypassed cinemas in 2019, premiering on Netflix – After We Collided was hampered by the small initial footprint of its release.
In After We Collided's league table of cumulative totals, Germany ($7.91m) remains top, ahead of Italy ($4.85m). UK and Ireland ($4.12m) now moves up to third place, overtaking Spain ($3.69m). Next come Russia/CIS ($3.56m), Australia ($2.04m) and Denmark ($1.72m). Among the chasing pack, Czech Republic/Slovakia is rising up the league table, with $1.31m.
Directed by Roger Kumble (Cruel Intentions), After We Collided is the sequel to $70m global hit After, and is the second film to be adapted from the series of young adult romance novels by Anna Todd, starring Josephine Langford and Hero Fiennes Tiffin.
This coming weekend, After We Collided opens in the Netherlands and South Korea.
Jim Button sequel tops German box office
Warner Bros has knocked its own film Tenet off the top of the German box office with the release of family adventure Jim Button And The Wild 13, based on Michael Ende's children's classic and the sequel to 2018 box office hit Jim Button And Luke The Engine Driver.
Jim Button And The Wild 13 – which, like its predecessor, is directed by Dennis Gansel – debuted with an estimated $1.4m. Jim Button And Luke The Engine Driver began in March 2018 with $3.03m in Germany, on its way to a territory total of $13.3m. The film was the top local title at the German box office in 2018, and the 15th highest-grossing film there that year overall.
Ende's two novels were first published in Germany in 1960 and 1962, and were translated into English in 1963. The stories are set on the fictional island of Morrowland, and concern steam locomotive driver Luke and his young accomplice Jim Button.
Mulan dips again with $1.1m weekend total
No new openings for Disney's Mulan remake saw the film once again experience a significant drop in takings, falling 67% with weekend box office of $1.1m (estimated). Cumulative total is $66.8m.
The film is playing in markets where the Disney+ subscription service does not operate. In cumulative totals, top territories are China ($40.6m), Middle East ($6.3m), Russia ($4.7m), Thailand ($2.9m) and Taiwan ($2.4m).
With no major international openings for Mulan on the immediate horizon, Disney is now pausing reporting on the film. The same also applies to The New Mutants, which has reached $21m internationally and $20.9m in North America for a $41.9m global total.