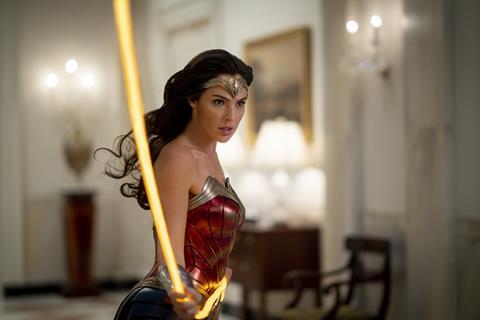 'Wonder Woman 1984' debuts with $2.6m in Russia
An estimated $2.6m debut including previews for Wonder Woman 1984 in Russia was more than enough to balance out the erosion of the film in all its other international markets. The Warner Bros/DC Films sequel grossed an estimated $5.2m in total internationally, up from $4.8m for the previous session, and bringing the international total to $105.9m. Add in North America, and the worldwide total is $141.7m.
Warner Bros reports that cinemas in Russia are operating at 25% seating capacity. However, unlike virtually every other major European country, venues are at least open. Russia has been a relatively strong performer in 2021, and local hit The Last Warrior: Root Of Evil – sequel to 2017 fairytale adventure Posledniy Bogatyr – has grossed $25m for distributor Disney since opening on January 1.
The original Wonder Woman film debuted in Russia in June 2017 with $4.0m, on its way to an $8.2m total. Despite the significant challenges of Covid, the sequel is running at 65% of that pace.
After North America (an estimated $2.6m for the four-day holiday weekend) and Russia, next best market for Wonder Woman 1984 at the weekend was Australia, which is likewise a relative bright spot for box office currently. The film grossed $1.0m there for the weekend period. Brazil comes next for the title, with weekend takings of $392,000.
Imax screens account for $9.2m so far in international markets, which is 8.7% of the film's total.
In the international league table of cumulative totals for Wonder Woman 1984, China ($25.4m), Australia ($16.1m) and Taiwan ($8.6m) remain the top three territories, but Brazil ($5.4m) has overtaken Japan ($5.0m) to claim fourth place. Spain, with $3.9m, and where cinemas are operating with restrictions, remains the top European market – although Russia should overtake it.
The original Wonder Woman grossed $409m in international markets in 2017, and $413m in North America for a $822m global total.
While Wonder Woman 1984's estimated global weekend takings of $7.8m represented the top result for a US studio film, the numbers nevertheless fall short of outcomes in China, where top title Red Flower grossed $11.7m, according To Artisan Gateway data (see below).
'The Croods: A New Age' rises in US, falls internationally
The Croods: A New Age grossed an estimated $2.21m from 17 international markets at the weekend, taking the international total to $94.7m. The weekend tally represents a 55% drop from the previous session. In North America, the Dreamworks Animation sequel grossed an estimated $2.04m for Universal, up 13% from the previous weekend, and an estimated $2.9m including today's Martin Luther King Day holiday.
Global total is now $134.8m. The previous session had seen The Croods: A New Age closing the gap on Wonder Woman 1984, but the latter film has now stretched its lead to an estimated $6.9m.
Australia ($1.1m) and Russia ($503,000) delivered the top results for the film at the weekend – echoing the pattern for Wonder Woman 1984. Russia total is now $11.7m, overtaking the lifetime total there for the original 2013 film The Croods.
Key markets including Brazil, France, Germany, UK, Italy, South Korea and Japan are yet to open. The Croods grossed $187m domestically and $400m internationally (via 20th Century Fox) for a $587m worldwide total.
'Soul' hits $57m in select territories
Disney Pixar's Soul enjoyed some solid holds in 11 international markets where it is playing theatrically, grossing an estimated $5.8m at the weekend for a $57.4m total. Top territory remains China, where the film took a reported $4m for a $43m total.
Holds were particularly strong in Taiwan (-10%) and Saudi Arabia (-13%) and where cumulative totals are respectively $4.3m and $4.5m. Next weekend sees the film opening in Russia and South Korea, which should give numbers a boost.
Local hit 'The Dry' stays top of Australia box office
Eric Bana crime drama The Dry remains top of the Australian box office, dropping just 10% from the previous weekend, with takings of Aus$1.89m ($1.45m) and an Aus$9.79m ($7.52m) total after three weeks of play.
This adaptation of Jane Harper's 2016 bestselling debut novel sees Bana star as a federal police agent returning to a struggling farming community for the funeral of his childhood best friend.
The Croods: A New Age dropped 24%, with takings of Aus$1.47m ($1.13m), moving up to second place. Wonder Woman 1984, falling by 31% with takings of Aus$1.35m ($1.04m), switches places, moving down to third position. Cumulative totals for those two films are Aus$15.9m ($12.3m) and Aus$21.3m ($16.3m) respectively.
In fourth place, Emerald Fennell's awards contender Promising Young Woman achieved an exceptionally strong hold, dropping just 5% with takings of Aus$473,000 ($363,000) and an 11-day total of Aus$1.47m ($1.13m). Chart veteran The War With Grandpa rounds out the top five with Aus$431,000 ($331,000).
China box office
Despite two new local releases, melodrama A Little Red Flower and action title Shock Wave 2 stayed atop the China box office. A Little Red Flower grossed a further $11.7m, for a cumulative total of $182.8m since its December 31 release, while Shock Wave 2, which opened December 24, took a further $7.8m for a cume of $163.2m. Full report here.