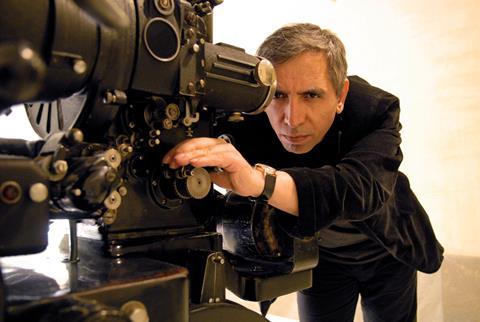 Iranian filmmaker Mohsen Makhmalbaf has launched an outspoken attack on the UK government for its "shameful" failure to issue passports to his wife, Marziyeh Meshkini, and daughter, Samira.
The 62-year-old director of Kandahar and Gabbeh lives in London as a political exile and holds a French passport. But his wife and oldest daughter, both award-winning filmmakers in their own right, remain political refugees and have yet to receive passports, despite being invited to apply by the UK government two years ago.
Speaking at IDFA in Amsterdam, where he is on the competition jury, Makhmalbaf railed against the treatment of Meshkini and Samira, who have been in the UK since 2011 and help run production company Makhmalbaf Film House.
"They [the UK Government] accepted they were political refugees and, after six years, said 'OK apply for passports," he told Screen. But papers have yet to be issued after questions were raised as to why the Iranian director was a political prisoner in the 1970s.
Aged 17, Makhmalbaf was imprisoned for stabbing a policeman during the anti-Shah resistance but was released in the wake of the Iranian Revolution after serving five years of his sentence.
He believes the arrest during the last days of the Shah's reign is the reason UK authorities have denied his wife and daughter passports.
The authorities have questioned the Iranian director over his fight against the Shah and why he was released. "Because he was a dictator and he was torturing us," said Makhmalbaf. "He tortured me. My left leg was completely destroyed."
Political refugee troubles
Meshkini, who won three awards at Venice with The Day I Became A Woman in 2000, could not join Makhmalbaf recently when he was working in Italy.
Samira, director of Cannes jury prize winners Blackboards (2000) and At Five in the Afternoon (2003), has also faced struggles in spite of her critical acclaim.
"Samira was twice selected by The Guardian as one of the most important filmmakers in the world but she does not deserve to have a passport like other refugees. This is the UK government," Makhmalbaf told Screen.
"She couldn't have a passport because her father was a political prisoner 45 years ago. It is the UK system. Look, this is the new capitalism, the new modern ignorance which has returned to life everywhere."
However, Makhmalbaf's youngest daughter, Hana - director of Venice award-winner Joy Of Madness (2003) and San Sebastian prize winner Buddha Collapsed Out Of Shame (2007) - has been issued a passport. The reason for this is not known by Makhmalbaf'.
Makhmalbaf left in Iran in 2005 and would face imprisonment if he were to return.
"I moved from Iran 14 years ago when censorship was high and they wouldn't let me make more films," he recalled. "I went to Afghanistan for two years. We made films there, ran cinema workshops and NGO activity.
"Then Iran sent terrorists to kill me," he claimed. "They exploded a bomb during our shooting."
It prompted Makhmalbaf to re-locate to Tajikistan where he lived and worked for a further two years. Then, under threat of arrest by secret police, he moved his family Europe.
Makhmalbaf lived in France for two years but secret police again targeted him in the wake of the 2009 Iranian Green Movement and the director was provided with police bodyguards.
He has lived in London since 2011, where he stages workshops for acting and filmmaking, and most recently directed Italy-set drama Marghe And Her Mother, which screened at Busan last month.