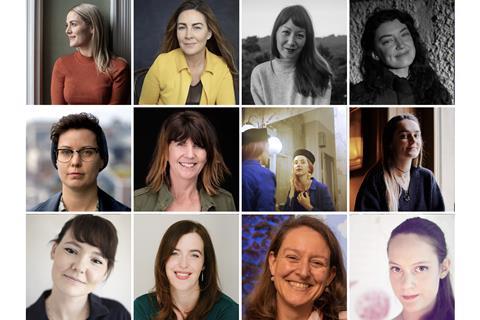 Irish professional development and networking initiative X-Pollinator has unveiled the participants for its latest programme, Creator.
A week-long immersive directors' residency for female and non-binary directors, Creator commenced this week in Adare, Co Limerick.
Featuring workshops with actors and mentorship and guidance from industry experts, the residency is led by Maudie director Aisling Walsh.
The twelve directors selected for Creator are:
Aisling Byrne (Headspace - Cork International Film Festival Grand Prix Irish Short Winner)
Andie McCaffrey (Sparkle - from The Actor as Creator scheme)
Ayla Amano (4X4 - Cork International Film Festival Special Mention for Best Director)
Claire Frances Byrne (Hello? - Dublin International Film Festival Discovery Award Winner)
Gilly Fogg (El Deafo - Bafta-winning and Emmy-nominated Apple TV+ animated special)
Katie McNeice (Lambing - Kerry International Film Festival Taking Flight Award Winne
Kim Bartley (Pure Grit - Galway Film Fleadh Best Irish Feature Documentary Award Winner)
Mia Mullarkey (Safe As Houses - Slamdance Film Festival)
Rachel McGill (Sheamy - ENGINE Shorts Winner)
Rosie Barrett (music videos for artists including James Vincent McMorrow, Villagers, Gemma Dunleavy and Jape)
Solène Guichard (VHS - Rhode Island International Film Festival, Belfast Film Festival)
Sinead O'Shea (Pray For Our Sinners - Toronto International Film Festival)
The directors will participate in group sessions with visiting experts, including directors Clio Barnard (Ali & Ava); Kate Dolan (You Are Not My Mother); Sophie Hyde (Good Luck to You, Leo Grande) and Frank Berry (Aisha); producers Yvonne Donohoe (Boys From County Hell) and Tristan Orpen Lynch (Joyride); cinematographer Kate McCullough (The Quiet Girl); editor Alex Mackie (Benediction) and casting director Maureen Hughes (It Is In Us All).
Participants can test out their projects and ideas with actors in a practical workshop environment in partnership with Bow Street Academy. There will also be networking opportunities with industry and creative producers, in partnership with the National Talent Academies.
The initiative is supported by Screen Ireland, the Broadcasting Authority of Ireland (BAI), Northern Ireland Screen and BBC NI's CINE scheme, and Creative Europe Desk Ireland.
Previously, X-Pollinator initiatives have led to the establishment of an Irish branch of Raising Films, which led to a commissioned report on carers and parents in the screen industry.
Founded by producer Katie Holly, X-Pollinator is a cross-disciplinary professional development and networking initiative which kickstarts collaborations between female and non-binary writing and directing talent.
It was established to take positive action to rapidly address the lack of gender diversity in the Irish screen industry, and is run by Co-Creative Directors Katie Holly and Lara Hickey, and course manager Evan Horan.