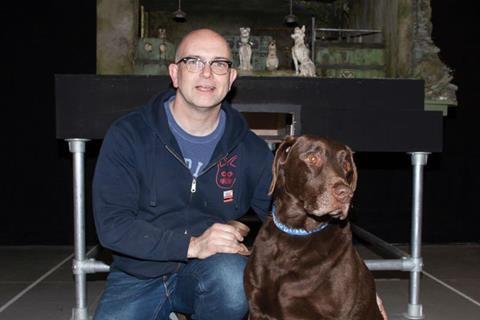 Wes Anderson's stop-motion animation Isle Of Dogs has been awarded the first ever Fi-Dogmanitarian award at the Fido Awards (For Incredible Dogs On Screen).
The film, which depicts a group of dogs fighting extermination on an island of trash in Japan, was recognised for its 'celebration of the human bond with canines in the Year of the Dog'.
The award is modelled on the Palm DogManitarian Award at sister ceremony the Palm Dog awards, which take place during Cannes Film Festival.
Andy Gent, head of the puppets department on the film, accepted the award at an exhibition of the film's sets currently running in London, accompanied by his labrador Charlie. Gent, who modelled characters including Chief, Boss, Duke and Spots, said Charlie "inspired the look in the film and was in my thoughts when creating the characters. He can actually be seen in the film as one of the pack."
Amongst other winners at the Fidos were Oscar-winning animation Coco, which took the Comedy Canine prize for Dante the dog, and Lone Scherfig's Second World War pic Their Finest, which received the Historical Hound award.
Anderson's film premiered at the Berlinale in February, where played in competition and topped Screen's Jury Grid. It features Bryan Cranston, Edward Norton, Bill Murray, Jeff Goldblum, Liev Schreiber and Scarlett Johansson as voices of the dogs, as well as the voices of Greta Gerwig, Frances McDormand and Tilda Swinton.
Fido award winners
FIDOgmanitarian Award: Isle Of Dogs
Historical Hound: Their Finest (The white English bull terrier under the table as Bill Nighy lays out the plans for his next career)
Comedy Canine: Coco (Dante, a typical Mexican Xola dog in animation style)
Blockbuster Bowser: Blade Runner 2049 (Bo, the canine pal of Rick Deckard (Harrison Ford), showed the importance of the canine-human relationship even in a replicant's world.)
Rom-com Rover: Red Dog True Blue
Mutt Moment: The Square (The grey whippet)