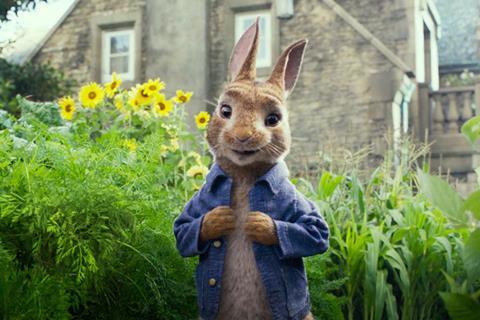 Today's GBP to USD conversion rate - 1.41
| | | | | |
| --- | --- | --- | --- | --- |
| Rank | Film / Distributor | Weekend Gross (Fri-Sun) | Running Total | Week |
| 1 | Peter Rabbit (Sony) | £3.2m | £32.2m | 4 |
| 2 | Ready Player One (Warner Bros) | £2.4m | £11.5m | 2 |
| 3 | A Quiet Place (Paramount) | £1.96m | £2.7m | 1 |
| 4 | Love, Simon (20th Century Fox) | £992,889 | £1.2m | 1 |
| 5 | Isle Of Dogs (20th Century Fox) | £840,928 | £3.9m | 2 |
Sony
A crowded week of new releases at the UK box office didn't disrupt Peter Rabbit, which put in another impressive shift, adding £3.2m in its fourth weekend, a drop of 45%.
The film is now up to £32.2m to-date, a remarkable return after four weeks. It looks likely to surpass the total gross of fellow family hit Paddington (£38m) and it could even challenge Paddington 2 (£42.8m), depending on how long this rabbit's tail is.
The UK remains the film's best performing international territory. It currently sits at number one in 10 markets including Australia and also opened at number two in France this weekend. Its international grosses are now up to $160.5m (£113.8m), and $273.8m (£194.1m) worldwide.
Warner
Ready Player One dropped 41% this weekend, adding £2.4m for £11.5m to date.
Tomb Raider added £205,000 for a £7.4m cume.
Paramount
A Quiet Place, the John Krasinski-directed horror starring himself alongside Emily Blunt, posted a Fri-Sun debut of £1.96m from 525 sites, an average of £3,733. With previews of £705,000 last week, the film sits on £2.7m so far.
That's a solid opening, though doesn't stack up in comparison with the US launch, which saw the film debut with a hefty $50m.
20th Century Fox
Coming out comedy-drama Love, Simon, following screenings at Glasgow Film Festival and the BFI Flare Festival, debuted into a wide 458 screens this weekend, taking £992,889 for a site average of £2,168. With previews, the film is on £1.2m. Good reviews and strong buzz in the LGBTQ community have helped to land the film fourth in the chart, which can be viewed as a good result for Fox.
Isle Of Dogs dropped to fifth in its second weekend, adding £840,928 for a cume total of £3.9m so far. The film looks unlikely to catch Fantastic Mr Fox's total (£9.2m).
The Greatest Showman saw a slender drop of 17% this weekend, adding £672,163 for £43.5m to date.
Hindi language thriller Baaghi 2 added £64,675 from 37 sites for £365,098 so far.
Disney
Black Panther fell a slim 35% in its eighth weekend, adding £690,000 for £48.4m to date. That's now the second highest-grossing Marvel Cinematic Universe film in the UK (behind Marvel Avengers Assemble), though could be in for an immediate challenge from Avengers Infinity War in just 17 days' time.
A Wrinkle In Time fell 39%, adding £240,000 for £2.4m to date.
Universal
In its second weekend, US comedy Blockers dropped 41% with £548,057. The film's cume is now £2.9m.
Pacific Rim: Uprising dropped to 11th in the chart, adding £256,244 this weekend for £4.1m so far.
Thoroughbreds opened in 133 sites with £50,812, a meek site average of £382.
Lionsgate
UK horror Ghost Stories, adapted from the play of the same name, opened to a Fri-Sun of £537,040 from 397 sites, a soft-looking average of £1,352. With previews, the film is up to £579,520.
Entertainment Film Distributors
Family animation Duck Duck Goose dropped a slim 17% this weekend, adding £505,263 for £2.3m to date.
Vertigo Releasing
Eli Roth's action remake Death Wish opened to £156,795 from 209 sites, an average of £750.
Trafalgar Releasing
Giselle - Bolshoi 2018 played in 163 sites this weekend. With 129 locations reported, the film was at £124,306 for an average of £963.
Curzon
Critical smash BPM (Beats Per Minute) opened to £76,508 from 33 venues for a healthy-looking site average of £2,318. The Square is now up to £645,422.
Eros International
Hindi language action comedy Blackmail opened to £31,687 from its 35 locations.
Sky Cinema
In the second film under its new day-and-date distribution initiative, Sky Cinema released action thriller The Hurricane Heist into 57 sites on the same day the film became available on its television platform. So far, 48 sites have reported takings of £23,138, a weak average of £482.