The film about a woman facing a rabbinical court to obtain a divorce from a husband won the top award at the Israeli Ophirs.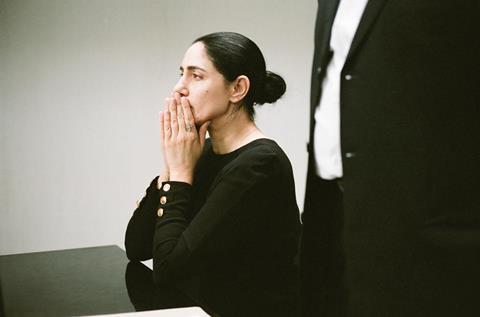 Gett, The Trial of Viviane Amsalem has picked up the top prize at the Israeli Film Academy's Ophirs Awards, which will see it submitted for Best Foreign-Language Oscar. It also picked up a supporting actor trophy for Sasson Gabbai.
The film marks the final part of a trilogy exposing the tribulations of a woman facing a rabbinical court and trying to obtain a divorce from a husband who refuses to grant it.
The courtroom drama, written and directed by the siblings Ronit and Shlomi Elkabetz, debuted in Directors' Fortnight in Cannes and went on to win the Best Israeli Feature, Audience Award and Best Actor at the Jerusalem Film Festival. It has sold to 25 territories
Another big winner last night was Talia Lavie's black comedy Zero Motivation, which picked up six Ophirs. The film, about young, female Israeli soldiers, won best director and script as well as best actress for Dana Ivgy, editing (Arik Lahav-Leibovici), music (Ran Bagno) and casting (Orith Azoulay).
Winner of best film at this year's Tribeca Film Festival, it has been sold to 12 territories including the US and Australia.
Ivgy also won best supporting actress for her role as a seriously handicapped young woman in Assaf Korman's Next to Her, which also played in Directors' Fortnight.
Euthanasia comedy The Farewell Party was nominated in almost every category and walked away with four: best actor (Zeev Revach), best cinematography (Toby Hochstein), best sound design (Aviv Aldema) and best makeup (Orly Ronen)
Directed byTal Granit and Sharon Maymon, the film received critical acclaim when it played at Venice and Toronto, resulting in distribution deals including the US.
Two further Ophirs, for production design and costumes, went to Yona, a bio picture directed by Nir Bergman and dedicated to one of the country's best known poets, the late Yona Wollach.
Nadav Shirman's The Green Prince about the son of a Hamas leader who became a Mossad agent was crowned best documentary.
Additional nods went to two shorts, Keren Shayo's documentary Ransom and Hadas Eylon's fictional Paris on the Waters.
One of the country's top comedians, Yehuda Barkan, won a Life Achievement Award and veteran sound man Eli Yarkoni, who has been working on films for over 50 years, was recognized for his long and fruitful contribution to the domestic industry.