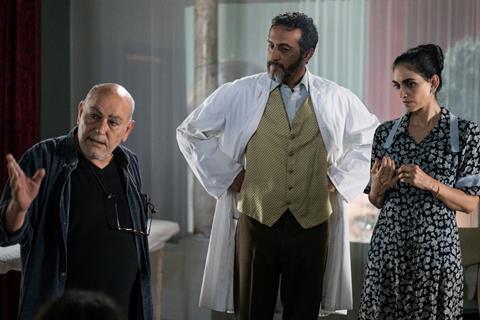 Israeli Culture Minister Miri Regev is calling for state funding of the Haifa International Film Festival (HAIFF) to be re-appraised, raising objections about films in its upcoming 34th edition that she considers could "harm Israel".
According to a letter obtained by Israeli media, Regev wrote to Israeli Finance Minister Moshe Kahlon, demanding his ministry re-examine state funding for Haifa, saying it had broken the law by programming films that undermined "Israeli values and symbols".
The festival, which opens on September 22 with Avi Nesher's drama The Other Story – exploring the tension between Israel's religious and secular communities - has yet to respond Screen's request for a comment.
Regev's ire has reportedly been stoked by two films in the upcoming edition of the festival: Daniel Wachsmann's feature-length drama Acre Dreams and the short film Out, which premiered at Locarno over the summer.
Veteran director Wachsmann's Acres Dreams, which debuts in the Israeli Feature Films Competition, revolves around a Palestinian playwright and his attempts to put on a theatrical work about the true love story between a Palestinian singer and Jewish doctor in the mixed Jewish-Arab city of Acre, now part of northern Israel, in 1947, during the final days of the British Mandate.
It is produced by Tony Copti, Copti, Jiries Copti and Daniel Wachsmann under the banner of the Coptis' Jaffa-based Fresco Films. Palestinian actor Haitham Omari co-stars alongside Israel cast members Liraz Charchi, Daniel Wachsman.
The project was also presented at the Haifa's work-in-progress industry event in 2017.
Out is the latest short work from emerging director Alon Sahar, whose previous short Gelem – exploring the suicide of a young Israeli army conscript - won the special jury prize in the Israeli Shorts Competition in Haifa in 2014 and also screened at Clermont Ferrand.
It follows a Guy, a young man who has just finished his Israeli army service and joins a right-wing group that is seeking to discredit the reputation of human rights activists.
It is inspired the real-life case of a right-wing activist who infiltrated the anti-occupation group Breaking the Silence and then mounted a smear campaign falsely accusing its members of passing on classified information to parties hostile to Israel. The claims were investigated and refuted by Israeli law enforcement agencies.
"Worrying phenomenon"
Contacted by Screen International via email, Sahar replied: "The trolling of filmmakers in Israel that resonates with the Culture Ministry is a worrying phenomenon. It is an indication of weak freedom of expression in a country that pretends to present itself as a democracy."
"I am used to the smear tactics, I've been there as a social activist. In fact, this is exactly what Out is about. The movie is an attempt to create a portrait of a character based on my own nemesis in real life. I don't mind conducting serious discussions but I won't waste my time on smears from people who didn't even watch the film."
Sahar said that the Haifa screening of Out in the Israeli Shorts Competition looked set to go ahead as planned, although he felt "pressure was mounting" on the Haifa Municipality which co-finances the festival together with the ministry of culture.
"I have already screened a short film - Gelem - in Haifa four years ago, where it received a special jury prize, and while there I had the opportunity to witness a festival which promotes independent film-making with bold statements, tolerance and co-existence with Arabs. My belief is that is that they will stand strong and put up a fight if they have to."
Regev's attack on Haifa bodes ill for film festivals across Israel, which have a tradition of including fiction and non-fiction works critical of the State of Israel in their programmes.
Israeli media reported that the minister was planning to push for the introduction of a "cultural loyalty law" when the Israeli parliament readjourns in October after the Jewish High Holiday period. She is also expected to step up her campaign to seize control of state cinema funding from Israel's autonomous film funds, through amendments to the country's 2001 Film Law, which would her ministry appoint readers to these bodies.
The minister has been at loggerheads with Israel's traditionally left-leaning, liberal film industry and wider cultural sector ever since she was appointed to the role by Prime Minister Benjamin Netanyahu in 2015, and the battle looks set to continue into the autumn.