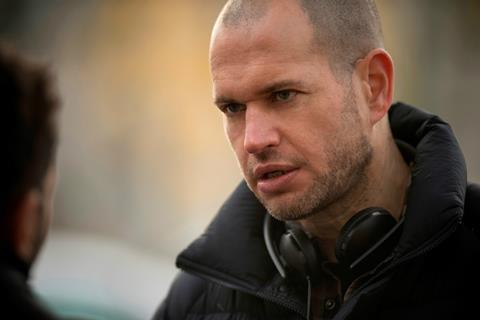 Israeli filmmaker Nadav Lapid levelled criticism at Vivek Agnihotri's The Kashmir Files at the closing ceremony of the International Film Festival of India (IFFI), where the divisive Hindi-language feature played in competition.
Lapid, who led the jury at the 53rd IFFI, applauded 14 of the films that played in the festival's international competition but said: "We were all of us disturbed and shocked by the 15th film, by the movie Kashmir Files, that felt to us like a propaganda, vulgar movie inappropriate for an artistic competitive section of such a prestigious film festival."
Lapid, whose feature Synonyms won the Golden Bear at the Berlinale in 2019, added: "I feel totally comfortable to share openly these feelings here with you on stage since the spirit that we felt in the festival can surely accept also a critical discussion, which is essential for art and life."
The Kashmir Files proved a box office hit when it was released in India in March but was labelled exploitative and Islamophobic by critics. The film is set during the exodus of Hindus from Indian-administered Kashmir in the 1990s and follows a university student who discovers his Kashmiri Hindu parents were killed by Islamist militants.
Lapid's comments sparked a backlash on social media and the jury board distanced itself from the criticism, stating it was "his personal opinion".
Indian filmmaker and fellow juror Sudipo Sen tweeted on behalf of the jury board: "Whatever has been said by IFFI 2022 jury chairman Mr. Nadav Lapid about the film Kashmir Files… was completely his personal opinion."
He added: "As juror[s], we are assigned to judge the technical, aesthetic quality and socio-cultural relevance of a film. We don't indulge in any kind of political comments on a film and if its is done, it is completely in personal capacity – nothing to do with the esteemed jury board."
The other jurors comprised US producer Jinko Gotoh, French editor Pascale Chavance and Spanish filmmaker and critic Javier Angulo Barturen.
Naor Gilon, Israel's ambassador to India, also criticised Lapid in a lengthy open letter on Twitter and said: "As a human being I feel ashamed and want to apologize to our hosts for the bad manner in which we repaid them for their generosity and friendship."
Following Lapid's comments, The Kashmir Files' director Agnihotri tweeted: "Truth is the most dangerous thing. It can make people lie."
IFFI is a government-organised event, funded by India's Ministry of Information and Broadcasting, and Lapid's speech was made in front of several government ministers. Anurag Thakur, India's information and broadcasting minister, attended the closing ceremony and retweeted a string of comments criticising Lapid's comments.
The controversy overshadowed the winners ceremony, which saw Costa Rica feature I Have Electric Dreams by Valentina Maurel win best film and best actress for Daniela Marin Navarro.