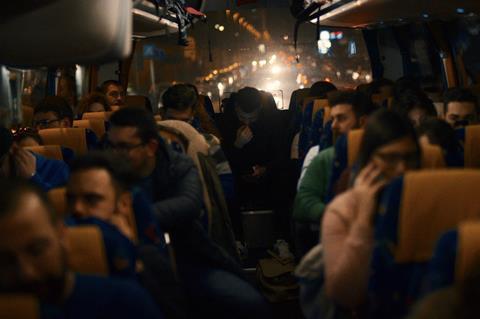 A timely documentary focused on Italian nurses has won a brace of awards at the Thessaloniki Documentary Festival's annual Agora Doc Market.
Scroll down for full list of winners
A Steady Job, directed by Mattia Colombo and Gianluca Matarrese, picked up the Thessaloniki Pitching Forum Award of €2,000 ($2,200) and the MFI Doc Lab Script2Film Workshop award with a full scholarship worth €2,500 ($2,800).
The film follows the journey taken by multitudes of Italian nurses every month, who journey from the south of the country to the hospitals in the north in the hope of securing a job. It is particularly prescient as northern Italy has been hit hard by coronavirus, recording more than 12,000 cases and 827 deaths to date.
The Agora jury said of the project: "The filmmakers were able to capture a key anxiety happening all around the world that we can all relate to, where we fight for scarce resources."
The jury added that it deals with "terribly dramatic issues, including the latest developments, which is the coronavirus effect on the subject matter of the film."
A Steady Job is produced by Giovanni Donfrancesco of Italy's Altara Films and co-produced by Jasmina Sijercic of France's Bocalupo Films. Co-director Matarrese won best Italian documentary at Torino last year with Fuori Tutto.
The Agora Doc Market took place entirely online for the first time this year, following the postponement of the Thessaloniki Documentary Festival over coronavirus concerns.
The Thessaloniki Pitching Forum, which comprised 12 projects, also saw coming-of-age story Mighty Afrin win the €2,000 ($2,200) ERT award, which is bestowed to a Greek project. Directed by Angelos Rallis and produced by Greece's AR Productions with France's Manny Films, it centres on a 12-year-old orphan in a flood-prone region of Bangladesh.
In addition, the Beldocs Networking Award was won by Expedition 49, which follows the final journey of Ukrainian adventurer Valentyn as he recruits five teenage apprentices from a war-torn part of his country for an eye-opening trip to the Himalayas.
Directed by Alisa Kovalenko, who won best European documentary at Odessa in 2018, it is produced by Siohan for France's East Roads Films and Valery Kalmykov for the Ukraine's Trueman Production.
Thessaloniki Pitching Forum awards
Thessaloniki Pitching Forum Award: A Steady Job, dirs. Mattia Colombo, Gianluca Matarrese
ERT – Thessaloniki Pitching Forum: Mighty Afrin, Angelos Rallis
MFI Doc Lab Script 2 Film Workshop award: A Steady Job, Mattia Colombo, Gianluca Matarrese
Beldocs Networking Award: Expedition 49, Alisa Kovalenko
Award of digital transfer of archive material by Aylon Production Digital: LP, Luca Lancise
DAE (Documentary Association of Europe) Award: Bark Of A Starving Dog (working title), Ketevani Kapanadze
Docs in Progress awards
Two Thirty Five post-production award and Visions du Réel award: Q, Jude Chehab
Music and Sound Services Award by MuSou Music Group: Epic Of A Tone, Sean Wang
Greek Film Centre Award: Land Of Milk And Honey, Gonzalo Recio
Neaniko Plano subtitling Award: Displaced In Heaven (working title), Khaled Jarrar