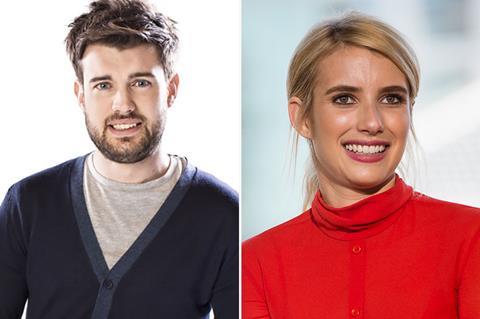 UK comedian Jack Whitehall will star opposite Emma Roberts in the romantic comedy Robots, which Rocket Science and CAA Media Finance are introducing to buyers at the virtual Cannes market.
Longtime Sacha Baron Cohen writer Ant Hines is lining up to direct from a screenplay he adapted alongside Capser Christensen, the Danish writer of Klown. It is based on the short story by sci-fi writer Robert Sheckley.
The story takes place in a future and follows a womaniser and a gold digger who trick people into relationships with illegal robot doubles of themselves.
When they unwittingly scam each other, their robot doubles fall in love and elope, and the pair are forced to team up to hunt them down before the authorities discover their secret.
The producers are Stephen Hamel, who developed the project through his Company Films, and Cassian Elwes of Elevated.
Hines's writing credits include Borat, Bruno, Da Ali G Show, and Who Is America?
Hemel has produced a number of recent Keanu Reeves films such as Replicas, Siberia, and Henry's Crime, and served as executive producer on John Wick. He also produced Passengers.
Among Roberts's screen roles are We're The Millers, Palo Alto, and February.
Whitehall has appeared in numerous TV shows including Amazon's Good Omens, and his film credits include the Bad Education Movie, and the upcoming 2021 tentpole Jungle Cruise with Dwayne Johnson and Emily Blunt.
CAA Media Finance arranged financing and represents US sales, while Rocket Science handles international rights.