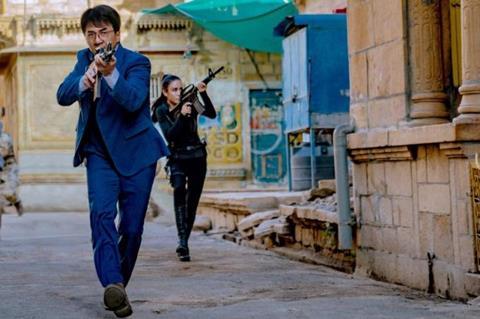 Gravitas Ventures has picked up North American rights to Jackie Chan action thriller Vanguard and has set a November theatrical release.
Director Stanley Tong and Chan make their ninth collaboration on the globe-trotting action tale that filmed in London, Dubai, Zambia, China, and India.
Vanguard centres on a covert security company that is the last hope of survival for an accountant after he is targeted by the world's deadliest mercenaries.
Yang Yang, Ai Lun, Mu Qimiya, Xu Ruohan and Zhu Zhengting also star.
Gravitas Ventures plans a wide theatrical release in the US and Canada including drive-ins and Imax theatres on November 20 this year.
Tong and Chan have worked together on First Strike, The Myth, and Rumble In The Bronx, among others.
Gravitas Ventures senior manager of theatrical distribution Cameron Moore said, "Vanguard is a film that fills a Fall action adventure vacancy, with the legendary screen icon Jackie Chan at the forefront."
Vice-president of acquisitions Tony Piantedosi negotiated the deal with Shanghai Lix Entertainment.