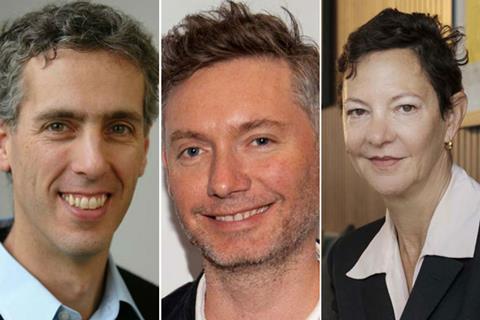 Director Kevin Madconald, Endgame Entertainment CEO James D Stern and producer Gabrielle Tana are among the expert speakers participating in the Zurich Film Festival's Master Class that begins today (October 3).
The Master Class is an intensive five-day networking and mentoring programme for 20 directors, screenwriters and producers from 18 counties.
Further speakers include filmmakers Christian Frei, Jacob Berger, Jon Kasbe and Ann Hui, and writer Thomas Meyer.
The programme kicks off today with SRF Writer's Day, a collaboration with Schweizer Radio und Fernsehen. The day's activities include a pitching session of the sixth Treatment Awards by SRF and Telepool, which has the theme Together We Are Strong this year. There will also be a public screenplay reading by actors from projects by previous winners of the Treatment Awards by SRF and Telepool and from screenplays by participants of the Munich-Zurich Screenplay Workshop.
Reta Guetg, Zurich's head of industry, told Screen, "We bring a mix of top-notch players as well as aspiring filmmakers and fresh talent to Zurich. Our line-up is a reflection of that by presenting first, second or third directorial works in our competitions whilst featuring gala premieres by the industry's greats. So this is the perfect ground to host a talents programme because we can connect the upcoming talents with experts in the field. The next generation of filmmakers will be our future, and we have the chance to meet them early in their careers and support them."
ZFF Master Class Participants 2018
Anton Petersen, director/writer (Faroe Islands/Denmark)
Govinda Van Maele, director/writer (Luxembourg)
Jude Chehab, director/writer (US/Lebanon)
Kabir Mehta, director/writer (India)
Katia Lom, director/ writer/animator (Switzerland)
Lony Welter, director/writer (Switzerland-Colombia)
Lukas Feigelfeld, director/editor (Austria)
Małgorzata WabińSka, producer (Poland)
Marc Mounier, producer (Switzerland-France)
Mariann Sofiasdóttir, writer (Faroe Islands/Denmark)
Marysia Nikitiuk, director/writer (Ukraine)
Monica Stan, writer (Romania)
Philipp Zakrzewski, producer/writer (Germany/UK)
Samantha Collins, writer (UK/Australia)
Savvas Stavrou, director/writer (Cyprus)
Sharon Angelhart, director/writer (Israel)
Slava Doytcheva, director/writer/actress (Bulgaria)
Tereza Kotyk, director/writer (Austria/Czech Republic)
Tomáš PavlíčEk, director (Czech Republic)
Wendy Pillonel, director/writer (Switzerland/France)
Partners for the ZFF Master Class are SRF, Telepool and JTI. The initiative is supported by Ernst Gönner Stiftung, Migros Kulturprozent, Stadt Zürich and Kanton Zürich.