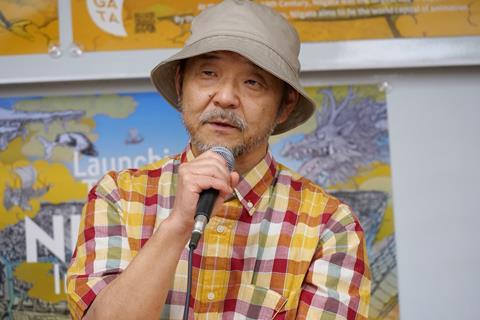 A major new international animation festival is set to launch in Japan in 2023, with Ghost In The Shell director Mamoru Oshii appointed its first jury president.
The inaugural Niigata International Animation Film Festival (NIAFF) will take place from March 17-23 in the port city (around 200 miles north of Tokyo) and is planned to be held annually, with a focus on commercial animated features.
The team will be led by Shinichiro Inoue as festival director and Tadashi Sudo as artistic director. Veteran producer and Genco Inc CEO Taro Maki has been named secretary general while Kenzo Horikoshi, whose producing credits include Leos Carax's Annette, is executive committee chairman.
The festival was launched during a press conference at the Cannes Film Festival, where it was also revealed that acclaimed director Oshii would be jury president at the first edition.
His 1995 feature Ghost In The Shell is considered one of the best, most influential anime features ever made and has been cited as an influence by James Cameron and The Matrix directors the Wachowskis. Sequel Ghost In The Shell 2: Innocence played in Cannes Competition in 2004, making it the first and only anime to ever compete for the Palme d'Or.
The competition strand is set to comprise 10 to 12 international titles. The programme will also feature eight to 10 titles showcasing 'global trends' to provide an overview of contemporary animation from around the world.
Awards for the people and works that have contributed to the evolution of animation will also be included while the 'Manga Gaze' will explore the relationship between animation and comics. Further sections will include retrospectives, an industry seminar and conference, and an educational programme of workshops by international institutions.
The budget is estimated at ¥50m ($400,000) and submissions will begin in November, with international critics making up part of the selection committee.
Artistic director Tadashi Sudo said NIAFF would screen features made for theatres but also those made for streaming platforms and TV series.
"VOD has changed the way we watch movies and the codes of cinema," he said. "The seventh art has become accessible and mobile. The experience of watching a film at home is different from the one in a movie theatre, where time, space and reactions are shared.
"Our ambition is to honour every animated film, whether it is shown in theatres, on VOD services or on television. We refuse to rank anime by the form of its exploitation. Creativity and storytelling are at the heart of our festival."