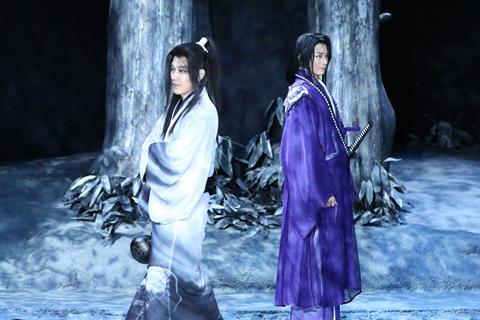 Japan's Village Inc is launching sales at EFM on the latest Geki Cine production, Fortress Of Skulls, which features one of Japan's biggest stars, Kenichi Matsuyama, in a lead role. Geki Cine produces filmed versions of its acclaimed stage plays in a single take and using multiple cameras, surround sound and high-end post-production.
Directed by Takanobu Kanazawa, the filmed version of Fortress Of Skulls also stars Osamu Mukai (Hanamizuki) and Rena Tanaka (Omotenashi). Matsuyama is best known internationally for the Death Note film franchise and also starred in Tran Anh Hung's adaptation of Norwegian Wood.
"Our theatre and directors have become extremely popular with many A-list actors and actresses," said Village Inc director of international operations Hiroyuki Hata. "Many want to be in our productions. The feedback we get is that it's hard work but fun." Matsuyama, who plays two roles in a single take in Fortress Of Skulls, previously starred in Village Inc's Legacy of SOMA-Aonoran.
Written by Kazuki Nakashima, the Fortress Of Skulls stage play was first launched in the 1990s and recently finished its latest sell-out three-month run. Set against the backdrop of a civil war in Japan's Edo period, the story revolves around the relationships between a vagabond, a geisha and a samurai who find themselves thrown together in a brothel town. Nakashima is also a well-known anime writer with credits including Warner Bros' Batman Ninja.
Fortress Of Skulls received its world premiere as the closing film of the Noves Visions section at last year's Sitges Film Festival, but EFM is the first market where it is being presented for sales. The Japanese release is tentatively scheduled for the second half of 2019.