Mumbai-based Jar Pictures is attending Film Bazaar with a busy, multiple-language slate, including Ajitpal Singh's The Man Who Broke The Mountain, to be co-produced by Mexican writer-producer Guillermo Arriaga [pictured].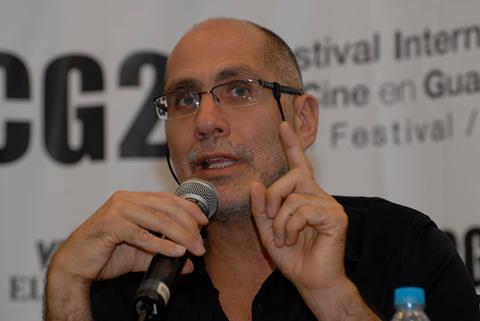 The Hindi-language drama, based on the true story of India's "Mountain Man" Dashrath Manjhi, was selected for the Mumbai Mantra/Sundance Screenwriters Lab in 2012.
Arriaga, who wrote Babel and produced Venice Golden Lion winner From Afar, was a mentor at the lab.
Jar's Alan McAlex and his partner Ajay G. Rai are also producing the next film from Liar's Dice director Geetu Mohandas, Malayalam-language Mulakoya, which will shoot next year in Lakshadweep Islands, Kerala and Mumbai. The project was selected for this year's Drishyam/Sundance Screenwriters Lab.
Following its success with Avinash Arun's award-winning Killa, which opened in France last month, Jar is also producing Arun's next Marathi-language film, Boomerang.
The company will also produce the next project from Crossing Bridges director Sange Dorjee Thongdok, who makes films in the Shertukpen language of Arunachal Pradesh.
"We're trying to work with regional-language film as Killa was well appreciated internationally, so we want to explore this area," McAlex told Screen.
"Emotions are universal and the international market doesn't care whether its Hindi or Marathi so long as it's a good film."
Jar is also producing Anay Tarnekar's The Hunt, a story about tiger poaching set in both India and China, which was also selected for this year's Drishyam/Sundance lab.
The company is also producing the first Marathi-language project from Shanker Raman, whose directing debut Gurgaon is screening in this year's Work-in-Progress Lab at Film Bazaar.