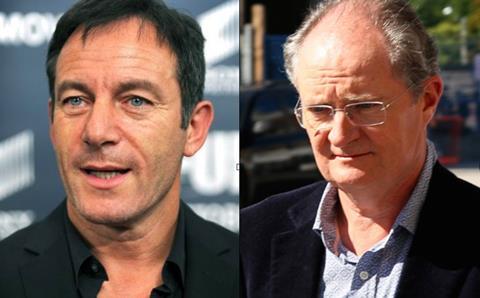 Jason Isaacs, Colin Morgan and Jim Broadbent will star in UK-Ireland black comedy The Dead Spit Of Kelly, which Myriad Pictures has introduced to worldwide buyers here.
Iain Softley (Skeleton Key, Inkheart) will direct from Johnny Ferguson's adaptation of the short story by Irish writer Flann O'Brien about a taxidermist (Morgan) who kills his cruel boss (Isaacs) and uses his skills to wear the dead man's skin and live a double life.
The film is a co-production between Grand Pictures (Dark Lies The Island) and Forthcoming Films (Ophelia). Michael Garland produces for Grand Pictures with Sarah Curtis and Softley for Forthcoming Films. Myriad's Kirk D'Amico and Brian Nitzkin serve as executive producers.
Isaacs starred in the Harry Potter franchise, The Death Of Stalin, and Hotel Mumbai, among others. Morgan's credits include Legend, The Huntsman: Winter's War, and TV series Merlin. Broadbent starred in the Harry Potter, Bridget Jones and Paddington films, and is well known for Topsy-Turvy, Iris, The Iron Lady, and Longford, among others. He previously worked with Softley on Inkheart.
"I am thrilled to be working with Myriad on this extraordinarily original, hilarious and emotional film," said Softley. "Dead Spit is a bold black comedy which manages to be simultaneously funny, brutal and narratively gripping. Its surreal story is quite unlike anything else I have come across for a very long time."
"We were struck by the highly original script and Iain's passion to bring this unique Irish story to the big screen," said D'Amico. "This is set in the world of fable and of appealing, fully developed characters who reveal to us a range of qualities, both good and bad. We are excited to bring this project to the international marketplace."
Myriad's current slate includes fantasy drama The Lost Girls starring Ellen Burstyn and Emma Thompson, which follows the Darling girls as they resume their lives after meeting Peter Pan.