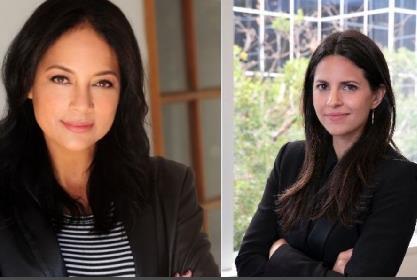 BRON has officially unveiled BRON Ventures and appointed Jennifer Arceneaux to run the strategic investment division.
BRON Ventures, which Screen first revealed last month, was set up to make strategic equity investments in cutting-edge content-driven production companies and leaders in the film, TV, digital and animation space.
The division recently completed an investment and strategic partnership with Brooklyn-based It Follows production company Animal Kingdom led by Joshua Astrachan and David Kaplan.
Arceneaux (pictured at left), is the former chief development officer at Sundance Institute and most recently served as the chief development officer and head of branded content at growth-stage fintech company Acorns. The fintech sector uses technology to improve financial transactions.
She will manage the BRON Ventures portfolio and serve as a strategic advisor to BRON's joint-venture partners. Arceneaux reports to recently appointed chief strategy officer Ashley Levinson (pictured at right), who joined BRON in April.
BRON chairman Aaron L. Gilbert and Levinson announced the official launch of BRON Ventures on Thursday (4). The first BRON Ventures fund is backed by Chris Conover's Hudson-Creative and BRON's strategic investments include a partnership with Michael Ellenberg's TV studio Media Res.
"It is the start of an exciting new era at BRON," said Gilbert. "First, we are thrilled to welcome Ashley and Jennifer to our company. Ashley is a big thinker with unique insight and vision and has brought so much to BRON already. Jennifer brings a diverse skillset to BRON, which will benefit our company and our joint-venture partners. With Animal Kingdom, we love the work they've done and look forward to supporting them as they grow their company. Joshua and David are a truly dynamic team."
Kaplan added: "We couldn't feel more fortunate to have found a long-term strategic partner in BRON. Having long been impressed by the growth and ambition of the organisation under the stewardship of its CEO, Aaron Gilbert, we see an incredible opportunity for corporate synergy as Animal Kingdom embarks on this exciting new chapter in the company's history."
Levinson works alongside BRON chief content officer Anjay Nagpal, and is responsible for fostering filmmaker and industry relationships and identifying corporate opportunities across the BRON group of companies, including BRON Studios, BRON Animation, BRON Creative, and BRON Ventures, while overseeing day-to-day operations of the LA studio. She previously served as COO at Annapurna Pictures.
Kaplan and Carl Kleidman of Ritholz Levy Fields, LLP negotiated the Animal Kingdom deal with BRON's chief legal officer Joel Guralnick. Graham Taylor and Christine D'Souza Gelb of Endeavor Content consulted Animal Kingdom on the deal.