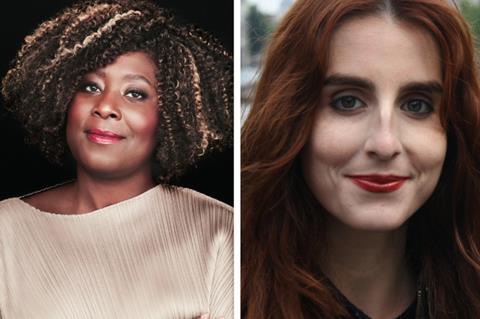 Jennifer Holness and Dominique Dussault emerged as the winners at the 15th annual Indiescreen Awards announced by Canadian Media Producers Association (CMPA) on Wednesday (February 10).
Holness (Hungry Eyes Media, pictured at left) received the Established Producer Award, which recognises her contribution to Canada's film industry and career achievements, and carries a $10,000 cash prize.
Her producing credits include Home Again (2012), Badge Of Pride (2010), and Love, Sex And Eating The Bones (2003). Her latest documentary feature, Stateless, won the special jury prize at the 2020 Hot Docs Canadian International Documentary Festival.
Dussault (Nemesis Films), who produced Cannes Label selection Nadia, Butterfly, received the Kevin Tierney Emerging Producer Award for her "filmmaking accomplishments as an early-career film producer with an exciting future ahead". The award carries a $5,000 prize.
The honours were handed out virtually as part of CMPA's closing reception for its annual Prime Time conference, which took place online this year due to the pandemic.
"Despite many challenges, the Canadian film sector continues to show impressive resilience in the face of the pandemic," said CMPA president and CEO Reynolds Mastin.
"The winners announced today demonstrate a spirit of perseverance that is woven into the fabric of domestic production, and their ambitious work is a reminder of the bright future that lies ahead for the Canadian film industry."
To qualify for this year's awards, the nominees must have held the role of lead producer on a Canadian feature that premiered in the 2020 calendar year. The awards typically take place in September and were postponed due to the pandemic.
The award nominees were selected by two national juries that also determined the nominee shortlist announced in January. The Established and Emerging juries were chaired by last year's CMPA Indiescreen Award winners, Félize Frappier, Kevin Krikst, and Fraser Ash.