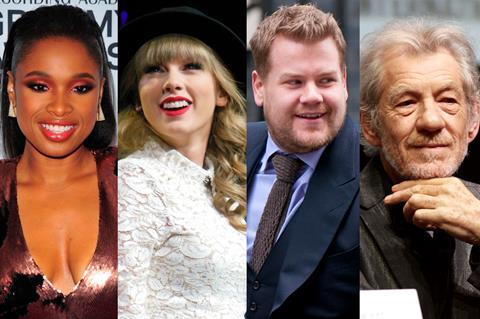 Jennifer Hudson, Taylor Swift, James Corden and Ian McKellen are set to star in Working Title and Universal's film version of Andrew Lloyd Webber's long-running musical Cats, Screen can confirm.
Tom Hooper (The King's Speech) is set to direct the film, which has been adapted by Lee Hall (Billy Elliot) from Webber's musical, which itself was based on poetry written by T.S. Eliot. Hooper has been prepping the project for two years and it is set to shoot in the UK this November.
First reported back in 2016, Tim Bevan and Eric Fellner of Working Title are producing the project alongside Debra Hayward and Hooper. The quartet also previously produced the film version of Les Miserables in 2012, which grossed more than $440m worldwide and won three Oscars. That film was also set up at studio Universal, which is onboard Cats.
The stage version of Cats is the fourth-longest-running show in Broadway history and the sixth-longest-running in London's West End. It has been translated into more than 20 languages and is estimated to have grossed more than $340m to date.
The play follows a tribe of cats called the Jellicles over the course of one night as they decide which of their group will ascend to the 'Heaviside Layer' and come back to a new life. It was first performed in London in 1981.
US singer and actor Hudson won an Oscar in 2007 for her role in Dreamgirls. Swift is a two-time Golden Globe nominee for original songs she composed for The Hunger Games and One Chance, her acting roles to date include The Giver in 2014 and as a voice actor in animated feature The Lorax. UK actor Corden is most recognised as the host of the TV talk series The Late Late Show on US network CBS and recently voiced the main character in Sony's his feature Peter Rabbit. McKellen is a two-time Oscar nominee who recently had a feature documentary about his career, McKellen: Playing The Part, released in the UK.