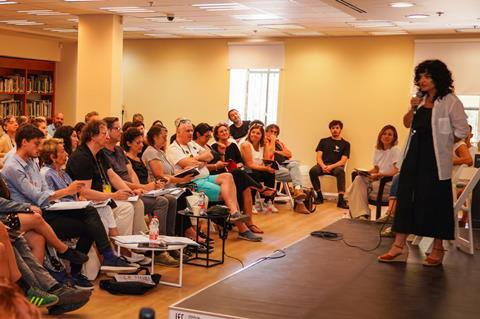 Dead Language by husband-and-wife filmmakers Mihal Brezis and Oded Binnun clinched the new $18,000 Jerusalem Foundation Award at the 14th edition of Jerusalem Film Festival's (JFF) Pitch Point event, established to connect Israeli filmmakers with international partners.
The story follows a 27-year-old woman who, while waiting for her husband at the airport, ends up driving a complete stranger to his hotel after he mistakes her for his assigned driver – a random, short-lived encounter that shakes up her life.
It is Brezis and Binnun's second feature after 2018 debut Rory's Way (formerly The Etruscan Smile) starring Brian Cox, and is an expansion of their short Aya which starred Sarah Adler and Ulrich Thomsen and was Oscar-nominated for best live-action short in 2015.
Gal Greenspan, Roi Kurland and Maya Fischer are producing for Green Productions with backing from the Rabinovich Foundation.
Director Maya Dreifuss won the Wouter Barendrecht – Lia van Leer Award for $4,500 (€4,000) for her upcoming feature Highway 65 about a single, forty-something female police officer investigating the disappearance of an army widow and former beauty queen in the small Israeli town where she is stationed.
Estee Yacov-Mecklberg and Haim Mecklberg of 2-Team Productions are producing. The project also won second prize at the recent Sam Spiegel Film Lab and has backing from the Israel Film Fund. Dreifuss' debut feature She Is Coming Home won three prizes at JFF 2013.
The Cinelab Post-Production Lab Services Award for $16,700 (€15,000) was awarded to Cinema Rex from directors Mayan Engelman and Eliran Peled. Set in Jerusalem 1938 during the British mandate, the animated feature which is currently in production follows a young Jewish boy and Arab girl on the opening night of the titular cinema, which straddles the border between Jewish and Arab Jerusalem.
Eliran Peled of Aldy Pai TLV is producing and the project has backing from the Jerusalem Film & Television Fund and the Mifal HaPais Council for Culture and Arts.
The DB and Opus Award, Post-Production Lab Services Award for $16,000 (ILS 55,000) was awarded to Shmuel Beru's Adisse New Land, about a family fleeing the Ethiopian civil war to Israel.
Currently in post, the feature is produced by Gil Roeh of Tel Aviv-based Zed Films with support from the Rabinovich Foundation, the Avi Chai Foundation, the Gesher Multicultural Film Fund and the Mifal HaPais Council for Culture and Arts.
The Nechama Rivlin Award for a First Time Filmmaker will be awarded at the main awards ceremony on August 1. Its $10,000 prize also comes courtesy of The Jerusalem Foundation.
A total of 12 projects at the development stage and seven films in post-production were presented at the Pitch Point event this year. The awards jury consisted of mk2 Films vice-president of acquisitions and sales Olivier Barbier, Tribeca Film Festival/Les Arcs artistic director Frederic Boyer, French producer Sandrine Brauer, European Film Market founder Beki Probst and Beta Cinema CEO Dirk Schurhoff.
Other future features unveiled at the event included Matan Yair's follow-up to Scaffolding, coming-of-age drama A Room Of His Own; David Volach's Daniel, an autobiographical tale of the director's life as a Tel Aviv bachelor who left his ultra-Orthodox community as a young man; Talya Lavie's Honeymood, her second feature after 2014 debut Zero Motivation, a "romantic comedy of errors" about the first night in a newly married couple's life; and Tom Shoval's Shake Your Cares Away, about a woman whose conscience is awakened by the death of her husband.