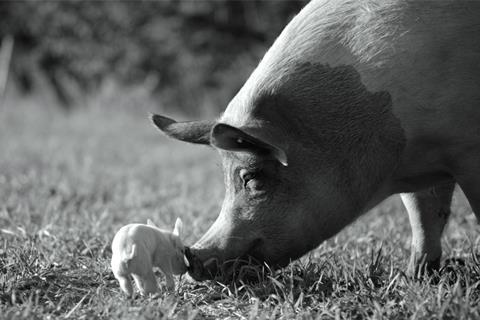 Oscar winner Joaquin Phoenix has come on to serve as executive producer on Victor Kossakovsky's Encounters documentary Gunda ahead of the world premiere in Berlin on Sunday (23).
Phoenix, a passionate animal rights advocate, said he was deeply moved by the film as it was being finished and by Kossakovsky's artistry. He intends to support the release of the meditation on the lives of the eponymous sow and other farm animals, which marks the follow-up to Kossakovsky's 2018 Venice Film Festival world premiere Aquarela.
UTA Independent Film Group handles North American sales and Cinephil represents international rights on the production from Norway's Sant & Usant and New York-based Louverture Films.
"Gunda is a mesmerising perspective on sentience within animal species, normally – and perhaps purposely – hidden from our view," said Phoenix, who won the best lead actor Oscar on February 9 for Joker. "Displays of pride and reverence, amusement and bliss at a pig's inquisitive young; her panic, despair and utter defeat in the face of cruel trickery, are validations of just how similarly all species react and cope with events in our respective lives.

"Victor Kossakovsky has crafted a visceral meditation on existence that transcends the normal barriers that separate species. It is a film of profound importance and artistry. It is a film of profound importance and artistry."
Kossakovsky and Ainara Vera wrote Gunda, which Anita Rehoff Larsen of Sant & Usant produced, and Joslyn Barnes and Susan Rockefeller of Louverture Films, who also worked with Kossakovsky on Aquarela, co-produced.