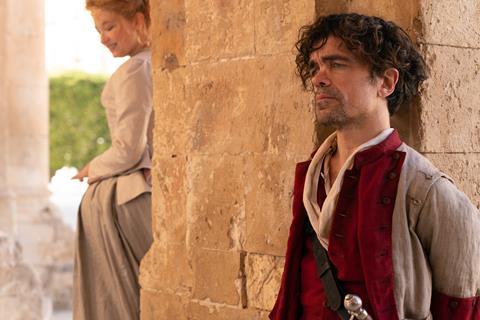 Joe Wright's musical Cyrano, starring Peter Dinklage, will open the inaugural edition of Saudi Arabia's Red Sea International Film Festival (RSIFF) running in the port city of Jeddah from December 6 to 15.
Scroll down for competition line-up
It will be among 138 films from 67 territories making up the line-up which was announced in full on Tuesday (November 9).
Adapted to the big screen from Erica Schmidt's 2018 stage musical inspired by French playwright Edmond Rostand's 19th-century classic Cyrano de Bergerac, the film is produced by the UK's Working Title Films and made its world premiere at Telluride in September. It will be released theatrically around the world by Universal Pictures International from the end of the year.
Amr Salama's light-hearted Egyptian ensemble drama Bara El Manhag will close the festival. Salama is best known internationally for his Netflix series Paranormal and the 2017 feature Sheikh Jackson.
The festival also unveiled the 16 titles in its main international Red Sea Competition, which is open to established and emerging filmmakers from across the world. They will compete for the Golden Yusr Award for best film as well as prizes in the directing, acting and writing categories.
Palestinian director Hany Abu Assad's political thriller Huda's Salon will open the competition on December 7. Further contenders include Tunisian director Nejib Belkadhi Covid-19 lockdown drama Communion, Iraqi-Italian director Haider Rashid's immigration thriller Europa, and the coming of age drama Yuni by Indonesian filmmaker Kamila Andini.
The festival's other strands include the Red Carpet Galas and Special Presentations, Festival Favourites, New Saudi/New Cinema, Red Sea Treasures, Red Sea Arab and International Spectaculars, Red Sea Next Generation, Red Sea Immersive and Red Sea Episodic.
The New Saudi/New CInema line-up will showcase 27 new works by emerging and established Saudi talents. They include Omar Naim's new feature Route 10 about a brother and sister who set-off on an ill-fated road trip from Riyadh to Abu Dhabi to attend a wedding, and omnibus film Quareer, a collection of five Saudi women's stories byRagheed Al Nahdi, Norah Almowald, Ruba Khafagy, Fatma Alhazmi, and Noor Alameer.
As previously announced the Arab Spectacular will showcase eight high-profile titles from Iraq, Palestine, Algeria, Tunisia, Egypt, Lebanon and Morocco. These include Lebanese directorial duo Joana Hadjithomas and Khalil Joreige's Memory Box, which debuted in the 2021 Berlinale, and Moroccan director Nabil Ayouch's Casablanca Beats which played in competition in Cannes.
Alongside Cyrano, other high profile international pictures playing out of competition include Maggie Gyllenhaal's directorial debut The Lost Daughter, Mamoru Hosoda's Belle, Giuseppe Tornatore's bio-documentary Ennio, about late Italian composer Ennio Morricone, Ana Lily Amirpour's fantasy thriller Mona Lisa and the Blood Moon.
"This is truly a landmark moment as we launch our first international film festival to celebrate original cinematic voices and showcase an extensive selection of films from around the world to local, regional and international audiences," said Mohammed Al-Turki, RSIFF chairman of the committee.
Outside of the main screening programme, the festival will also pay tribute to pioneering Saudi director Haifaa Al-Mansour and Egyptian actress Laila Eloui.
The line-up also features a masterclass by Egyptian actress, singer and megastar Yousra. There will also be three in-conversations with achievements of Al-Mansour, Tunisian actress Hend Sabry and acclaimed French director Gaspar Noé.
Other guests set to attend include Catherine Deneuve and Jack Lang, the former French minister of culture who is now President of the Institut du Monde Arab.
Red Sea Competition full line-up
Communion (Tun)
Dir. Nejib Belkadhi.

Paka (River of Blood) (Ind)
Dir. Nithin Lukose.

Huda's Salon (Pal, Egy, Fr)
Dir. Hany Abu-Assad.

Soula (Alg)
Dir. Salah Issaad

Europa (Iraq-It-US)
Dir. Haider Rashid
Brighton 4th (Geo, Rus, Bul, Mon, US)
Dir. Levan Koguashvili

Yuni (Indo)
Dir. Kamila Andini

Saloum (Sen)
Dir. Jean Luc Herbulot
Rupture (Saudi)
Dir. Hamzah Jamjoom
Rehana Maryam Noor ((Bang, Sing, Qat)
Dir. Abdullah Mohammad Saad.
Hit The Road (Iran)
Dir. Panah Panahi.

Life Suits Me Well (Mor)
Dir. Al Hadi Ulad-Mohand,
Neighbours (Switz)
Dir. Mano Khalil
Farha (Jor)
Dir. Darin J. Sallam
Sharaf (Egy)
Dir. Samir Nasr
The Alleys (Jor)
Dir. Bassel Ghandour