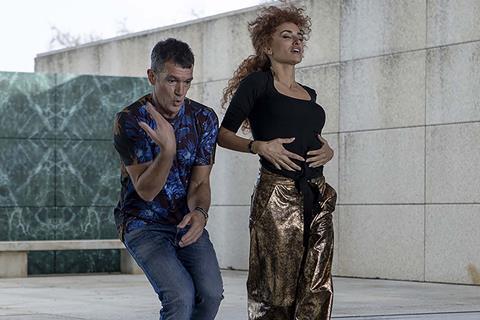 The Cairo International Film Festival (CIFF) has unveiled the full line-up for its 43rd edition running from November 26 to December 5.
The festival, which is one of the oldest in the Middle East, will showcase 76 features.
It will kick off in its traditional gala venue of the Cairo Opera House with Argentinian directors Mariano Cohn and Gastón Duprat's Venice crowd-pleaser Official Competition on November 26.
Thirteen films will compete in the main international competition for the Golden Pyramid for best film.
World premieres in that line-up include Jordanian director Zaid Abu Hamdan's Daughters of Abdul-Rahman, about three sisters looking for their missing father in Amman, and Argentinian director Rodrigo Guerrero's Seven Dogs, about an elderly man's battle to hold onto his beloved pets.
Further contenders include Mexican director Tatiana Huezo's Prayers For The Stolen and Romanian filmmaker Bogdan George Apetri's thriller Miracle.
Serbian director Emir Kusturica will preside over the jury that also comprises Indian director Chaitanya Tamhane, Lebanese composer Mouzannar, US actress Marisa Berenson, Egyptian actress Nelly Karim, French actress Nora Arnezeder and Italian director Roberto Minervini.
Another 11 features out of the Middle East and North Africa will compete in CIFF's other key competitive section, Horizons of Arab Cinema.
The section will open with the out of competition world premiere of Becoming, an omnibus work of female-focused stories by Saudi directors Sara Mesfer, Fatima Al Banawi, Jawaher Alamri, Hind Al Fahhad and Noor Alameer.
El Banawi also will preside over the Horizons of Arab Cinema jury, which also comprises Lebanese director Hady Zakkak and Egyptian director Tamer Mohsen.
World premieres in the Horizons line-up include Tunisian director Anis Lassoued's kidney transplant drama A Second Life, veteran Moroccan filmmaker Hakim Belabbes's drama Collapsed Walls, set in a small city where the inhabitants are divided and yet united in their life experiences, and Palestinian director Rashid Masharawi's Diary Of Gabrielle Street.
A third jury comprising UK-Egyptian actor Amir El Masry, Lebanese actress Razane Jammal and Algerian director Sofia Djama will award the Best Arab Film prize for which all the features screening across the International and Horizons Of Arab Cinema competitions and the International Critics' Week Competition are eligible.
Outside the screenings programme, the festival will also fete veteran Egyptian actress star Nelly with a Golden Pyramid lifetime achievement award while actor Karim Abdel Aziz, best known internationally for his performance in the Blue Elephant feature franchise, will receive the Faten Hamama award for his cinematic achievements.
International Competition
107 Mothers (S Kor,Czech,Ukr)
Dir. Peter Kerekes
Abusaddam (Egy)
Dir. Nadine Khan
A Chiara (It, Fr)
Dir. Jonas Carpignano
Aloners (South Kor)
Dir. Hong Seong-eun
Daughters (Ger-It-Gre)
Dir. Nana Neul

Daughters of Abdul-Rahman (Jor)
Dir. Zaid Abu Hamdan
Miracle (Rom-Czech Rep- Lat)
Dir. Bogdan George Apetri
Prayers for the Stolen (Mex-Ger- Braz)
Dir. Tatiana Huezo
Seven Dogs (Arg)
Dir. Rodrigo Guerrero
Small Body (It- Fr- Slov)
Dir. Laura Samani
Softie (Fr)
Dir. Samuel Theis
The Hole in the Fence (Mex- Pol)
Dir. Joaquín del Paso
Tomorrow (Tun)
Dir. Dhafer L'Abidine
Horizons of Arab Cinema Competition
A Second Life (Tun)
Dir. Anis Lassoued
Collapsed Walls (Mor)
Dir. Hakim Belabbes
Diary of Gabrielle Street (Pal)
Dir. Rashid Masharawi
Fiasco (Leb)
Dir. Nicolas Khoury |
From Cairo (Egy)
Dir. Hala Galal
Heliopolis (Alg)
Dir. Djaffar Gacem
Memory Box (Fr- Leb- Can- SA)
Dirs. Joana Hadjithomas, Khalil Joreige

Our River Our Sky (Iraq- UK -Fr- Ger- Ku- UAE)
Dir. Maysoon Pachachi
Streams (Tun-Fr)
Dir. Mehdi Hmili
The River (Leb- Fr- Ger)
Dir. Ghassan Salhab